This post contains affiliate links.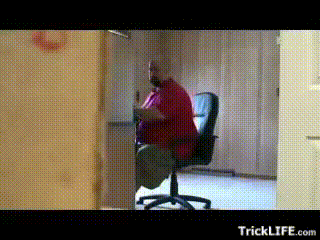 Let me start this blog post with a simple truth:
Almost every gaming chair is produced in China, even the big brands produce them in China. Marketing raises the price imeasurably.
Now…what does that tell you? 
It tells you that it is possible to find the same quality by choosing a lesser known brand. To do so I would recommend comparing "known gaming chair brands" to lesser known brands on Aliexpress. That is how you will get the best bang for your buck. 
Now why would anyone buy a branded gaming chair anyway?
Now, if you don't care about saving a couple of bucks and convenience is more important to you, a branded gaming chair can indeed be a great solution after all. Let's look at the advantages:
Pros of buying a branded gaming chair
Lets look at the pros of buying a gaming chair from a well known brand like DXRacer or Vertagear as opposed to lesser known brands
Usually faster shipping (especially with Amazon Prime)
It is easier to get your hands on spare parts
More variety and customization as far as designs and colors.

Appearance, image and marketing
Pros of buying a lesser known gaming chair
Way cheaper, you could save up to 100$ or even more.
It is possible to find the same quality as "big brands"
Pssst:
Look at AmazonBasics Gaming Chair for example. If you take a closer look you will notice that other branded, more expensive chairs have the exact same design and quality. 
What, Amazon also buys their chairs from China?
Well, this is an opinionated piece and I have by no means any proof of what I am about to write however consider this an educated guess:
Since I have been researching gaming chairs for years now, I have noticed that a lot of them look very very alike. They look very alike and when you look at the specs you will notice that the specs are also very very alike.
Amazon, the big player that it is, however has way more leverage when purchasing  big amounts from China which is also why they can buy huge amounts from the same factory and offer them at a better price than most of the competition.
So there you have it, if you are not interested in anything fancy but just a solid, reliable gaming chair, just go with the AmazonBasics, you cant really go wrong.
Alternatives
Alternatively, you could directly head over to Aliexpress and buy your gaming chair there, it will likely even be cheaper than the ones you can find offered by Amazon. The downside however, is that delivery will take longer and it will also be more of a hassle in case you want to return it. 
Oh and by the way…
If you buy a gaming chair for under 100$ you know it's crap
Is this it? Is this really all I need to know?
Yes basically. However if you dont care about spending a little bit more and all you care about is finding the perfect gaming chair according to your needs, check out our in-depth buyer's guide:
My top 3 recommendations in 2023
This post contains all my knowledge of gaming chairs, i will go into an indepth analisis of different brands, materials used, features and a lot more. However, if you are just looking for some quick info, the following are the best gaming chairs that I recommend in 2023:
Highlights
As mentioned earlier, Amazon sells at a very fair price point. It is not the most fancy however you will have a hard time finding the same quality at this price.
If you don't care about spending a couple of extra bugs this is the one to buy
Careful, this one is for big boys only. It offers great value under 200 bucks so if you are too big for the noblechairs Icon Gaming chair, this is the one I would recommend instead. An interesting feature is the massage lumbar pillow (USB)
Material
Real leather (and more custom options)
Quality - Price
Highlights
As mentioned earlier, Amazon sells at a very fair price point. It is not the most fancy however you will have a hard time finding the same quality at this price.
Best Overall
Highlights
If you don't care about spending a couple of extra bugs this is the one to buy
Material
Real leather (and more custom options)
Best Under 200$
Highlights
Careful, this one is for big boys only. It offers great value under 200 bucks so if you are too big for the noblechairs Icon Gaming chair, this is the one I would recommend instead. An interesting feature is the massage lumbar pillow (USB)
Here, we will look at three options mentioned above in-depth. Each have various pros and cons. Let's dive right into it and start with best gaming chair overall:
Best overall – Noblechairs ICON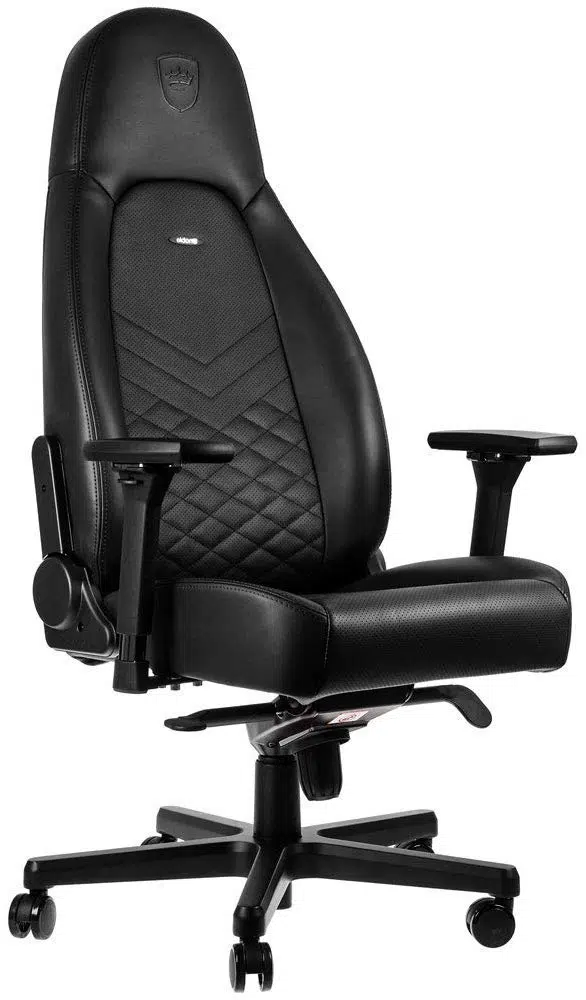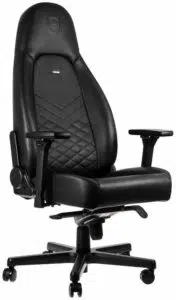 Features: 
PU Leather cover

0.08" sturdy steel frame

Dense deform-resistant foam 

Head and lumbar pillows included

Incline ability from a 90° to 135° angle

Class 4 gas lift and aluminium base

Maximum load of 330 lbs

2.4″ casters for hard and soft flooring
Pros:
Inspired by luxury racing car seating, this gaming chair is ergonomically designed for ultimate adjustability and comfort – the complimentary pillows for lumbar and neck support give the chair that extra level of luxury. Of course, the pillows can be easily adjusted to your specific needs. 
The relatively high weight rating of 330 lbs adds an additional incentive for those who may be concerned about the sturdiness of the chair.  For this reason, it is not only good for normal sized people but also may be a good choice for those who are on the heavier side.
The best part
The design is sleek and high-quality, with classic, minimalist tones. The stitching is industrially pressed and high-quality which completes the look. The best part, however, is the material. You can actually get real leather as coating. The PU leather (which is less expensive) is also of excellent quality.
It is easy to assemble, even by yourself, and is a sturdily built item. In particular, the wheel base is very solid.
Cons:
The recline feature is ok, it goes back 135 degrees which is actually a lot less if you compare it to other gaming chairs. However it would be good to give this "con" a little bit more context: The Noblechairs ICON is a professional gaming chair. It is made for gamers who need to concentrate on their craft. Therefore this chair was created to be very sturdy, the trade-off in this case is that it is less reclinable.
While the pillows and adjustments allow for great posture and support, the main seat tends to be a little hard initially. It will however soften and adjust to your body after using it for a little while.
Lastly, another criticism is simply the price – it is on the expensive side when it comes to such chairs, while not offering anything particularly at first sight. But keep in mind, this is the type of chair that will last you a lifetime. Something that can not be said of many gaming chairs and please trust me, I speak from experience. 
Best bang for your buck – AmazonBasics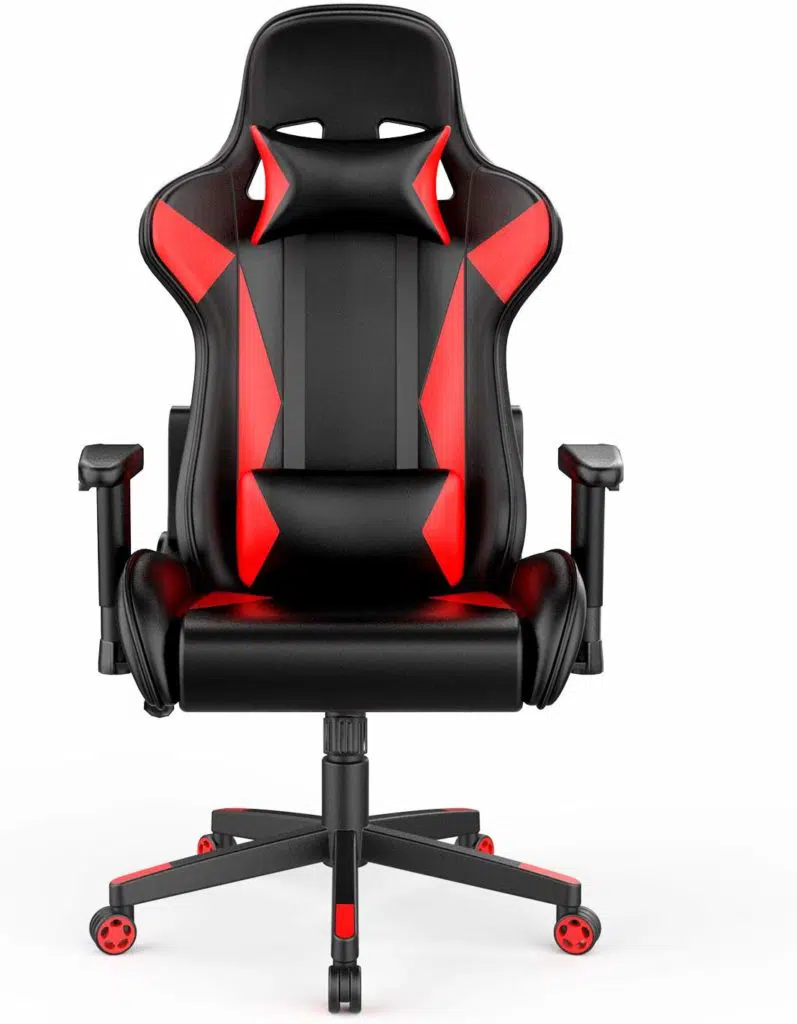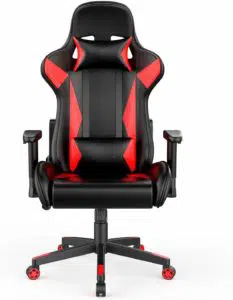 Features:
PU leather upholstery

Height-adjustable armrest

Tilt control

Headset and lumbar cushion

360-degree swivel

Smooth-rolling 60R casters

AmazonBasics 1-year limited warranty
Pros:
The biggest asset of the AmazonBasics Gaming Chair is definitely its price. As far as value for money is concerned, it hardly gets any better. It runs much cheaper than many other options, which are essentially the same chair just with a different logo/brand name. 
Visually, the chair is nothing out of the ordinary. With premium PU leather, the sleek black look is accented by a pop of colour on the side. The various comfort and support options are enticing, as they are useful and also customizable.
Customers who need replacements or returns  have no issues in the customer service department, which is always a hugely reassuring bonus when purchasing from Amazon.
Cons:
The biggest problem you may face with this product is simply a size issue: multiple customers reported having issues with both the width and the depth of the seat. Users said it was quite constricting for their legs due to the bucket seat, which pushes the legs together for anyone who isn't particularly thin.
Similarly, the shallow depth of the seat means that users felt pushed forward, especially with the lumbar pillow behind them taking up valuable seat space. So, for heavier individuals, this may not be the right seat choice for you. There is no weight rating given by the seller, but customer questions have been answered on the product with an estimate of no more that 250 lbs.
Best under 200$ – Blue Whale Gaming Chair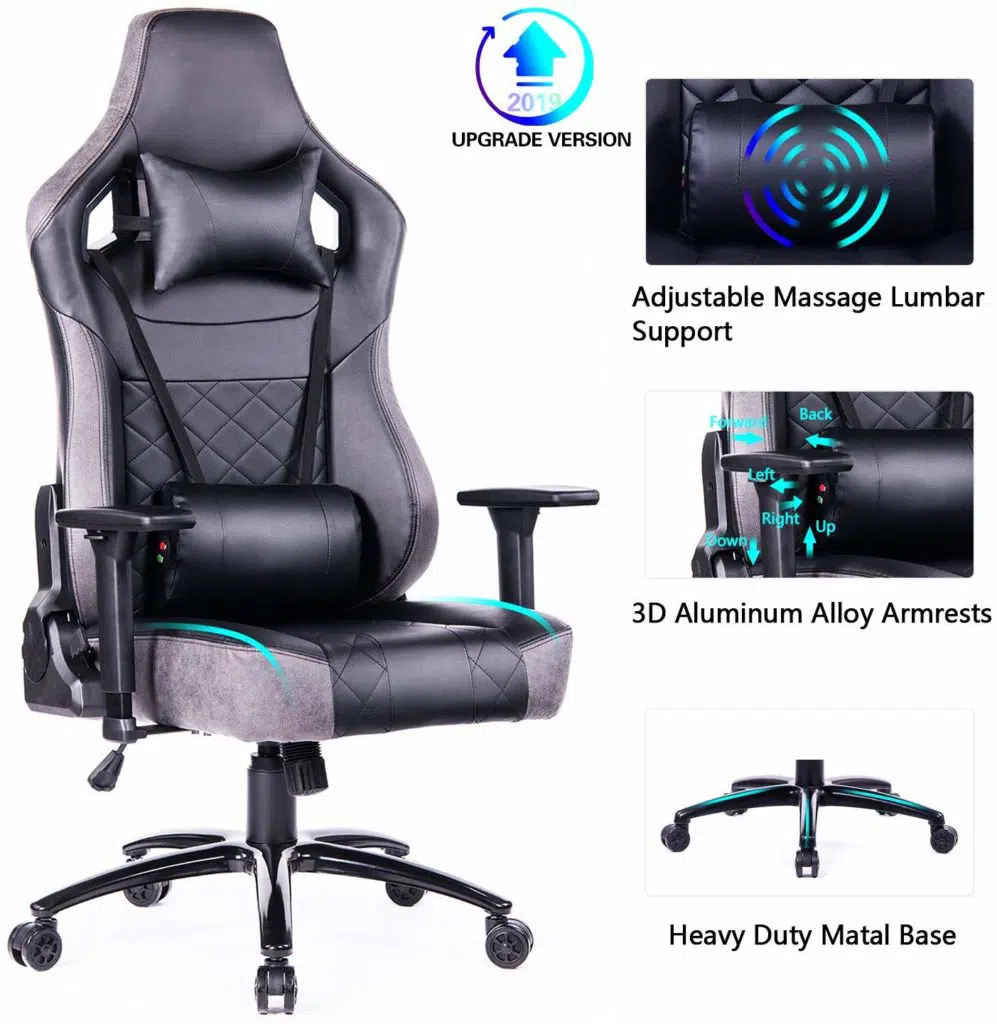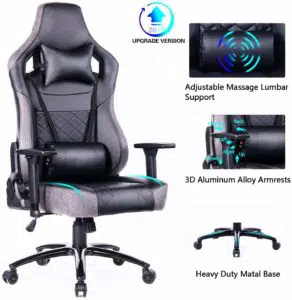 Features:
USB massage lumbar support

Premium scratchproof PU leather

Wider and thicker seat cushion

High-density sponge

3D aluminium alloy armrest

90-155° angle backrest adjustment

20° rocking function

360° swivel rotation

Max capacity: 400lb
Pros:
The Blue Whale Big and Tall is probably the best gaming chair under 200 bucks. It is purpose-built for larger body types, with a maximum capacity of 400 lbs. So if you are not on the big and tall end you should probably stay away from this one.
If you are rather on the short/medium sized side, a great chair for a similiar price is the GT Omega Racing Pro. (It has a similar price and is built for small to medium sized guys)
Anyways… Let's get back to the Blue Whale gaming chair:
The Blue Whale is highly adjustable, you can adjust countless features, including the height of the chair, the tilt of the backrest, the dimensions of the armrests (3 directions) and the position of the headrest and lumbar support. 
It is ergonomically designed with high density sponge and includes a USB massage lumbar support feature for a high-comfort experience.
This product also boasts an integrate metal frame, explosion-proof gas spring, and a heavy-duty metal chair base for ultimate stability. 
One advantage to buying from this company is the consistently quick responses to any customer issues and offer of free replacement or money back within 30 days. It also offers a 1-year parts warranty.
The value for money is once again quite good, as the quality of the product seems to be quite high while the price remains on the lower end of the scale.
Cons:
There were some user issues with the incline ability – one customer fell and damaged the chair while trying to recline, although they stated that they weighed almost 400lbs, which is at the utmost limit of the weight rating so this is unlikely to be an issue for many others.
Size Guide – 3 steps to finding the best gaming chair
Pick a brand that you love
Chose the features and design that you prefer
Pick the right size -> Size Guide
Brands
There are countless of different brands so I decided to only highlight 3. First off, there is Noblechairs (High End), secondly, DX Racer (most popular) and lastly, I am also going to discuss the brand GT Omega (great value). Let's get started:
Noblechairs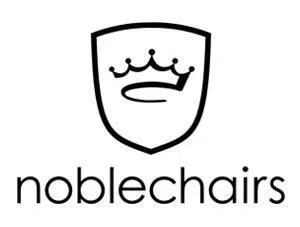 Noblechairs is a manufacturer of high-end Gaming Chairs inspired by racing cars, based in Germany. It is a leading brand of this type of products and has been present in international videogames competitions.
As mentioned above, this brands chairs are a perfect fit for professional gamers, maybe even with a slightly extravagant taste. The material and designs are state of the art.
I personally feel that the ICON model is the one to go with however if you're interested in finding out about the other 2 chairs, Hero and Epic, I recommend checking out wepc's guide on the Noblechairs Epic  and Tom's hardware guide on the Noblechairs Hero.
Each of  the chairs are wonderfully ergonomic and totally elegant. They all have won several awards in different categories.
DXRacer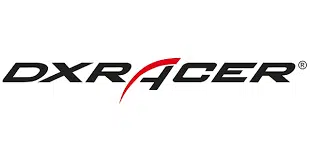 DXRacer is the grandfather of the gaming chair industry. It is one of the oldest manufacturers and continues to maintain its position as one of the best. 
In 2001 the store started production. At that time, they were manufacturing seats for sports cars. They are pioneer manufacturers. When they realized the demand for gaming chairs they decided to change their business model. In an effective way they knew how to expand and position themselves as the number one brand rather quickly.
It is known for its vast quality of chairs for Gamers, excellent strength and a finish that defines DX Racer probably as the most iconic video game chair brand in the market. In my opinion however, the price is a little bit inflated due to the brand name. Therefore I have chosen to not include a DXRacer chair in the comparison above, which is not to say that they are actually one of the best gaming chair brands out there!
They do have excellent chairs and if you don't care about spending a couple of extra bucks I can recommend the following guide on how to pick the best one according to your needs.
GT Omega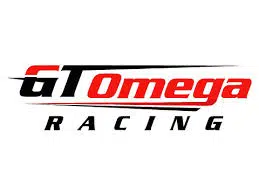 GT Omega  is a brand that has a wide range of options for Gamers since 2009. They are among the most accessible on this list, maintaining an excellent quality-price ratio.
Chairs are not the only thing they produce, as they also manufacture a range of products for video games, including backpacks, mouse pads, among others.
They also focus on high-speed car simulators and add details to make that racing seat real and complete your gaming experience.
FAQ
What's the best gaming chair?
The ones I recommend. The only big mistake you can make is not selecting the right one according to your size.
Who makes the best gaming chair?
What's the best gaming chair for PS4 or XBox?
What is the best gaming chair 2023?
Again, until nothing better is released to the market, you can't find any better than the Noblechairs chairs.
Conclusion
To conclude, if all you are looking for is a great quality price ratio just go with the Amazon Basics Gaming Chair, it is similar to 95% of the other gaming chairs out there, only at a more competitive price. 
If, however, what you are looking to buy, is the overall best gaming chair in 2023, I would opt for the Noblechair ICON. If you dont want leather but fabric, I would suggest one of the DX Racer chairs. 
As far as design, tastes differ and that is completely up to you, just make sure to find a chair that suits your size. 
I hope this guide was helpful, i have really tried to give you an honest opinion on what's out there. If you like this post, feel free to share it on social media.