This post contains affiliate links.
If you are looking to buy the best bedroom chair you have come to the right place.
Purchasing the best bedroom chair(s) may not be as easy of a task that you would think it is. You will need to take some considerations, especially regarding the design choice and of course the amount of money that you want to spend.
In the following article we will discuss some of the most popular choices and their PROs and CONs
The Top #8 Best Bedroom Chairs in 2023 – Reviews and Buyers Guide
Check out the Top 8 most comfy bedroom chairs that will surely offer more functionality and comfort in your bedroom.
Our Top Pick – Zenree Luxury Oversized Lounger Chair (Collapsible)
This Zenree lounge chair is perfect for long sitting hours ideal for your Netflix weekends or when you want to indulge yourself in binge-reading. This chair itself is made from Sherpa fabric. Its frame is made out of sturdy steel. Offering great body support and plush cushion, the Zenree padded chair mixes comfort and fashion with its classic shape. Plus, it can easily add accent to your bedroom.
Pros
It has an ergonomic structure with a wide seat for excellent body support.

The cushion is unbelievably soft and does not get hot even after extended hours of sitting.

The chair's legs are designed with floor protectors to protect your floor from scratches.

When folded, the chair can be as small as a pillow –  perfect for storage purposes.
Cons
The color white can get easily dirty and may be equally hard to clean

In assembling the chair, getting the seat's Velcro cover fastened can be a bit of a hard work
Small spaces – Roundhill Furniture Contemporary Accent Chair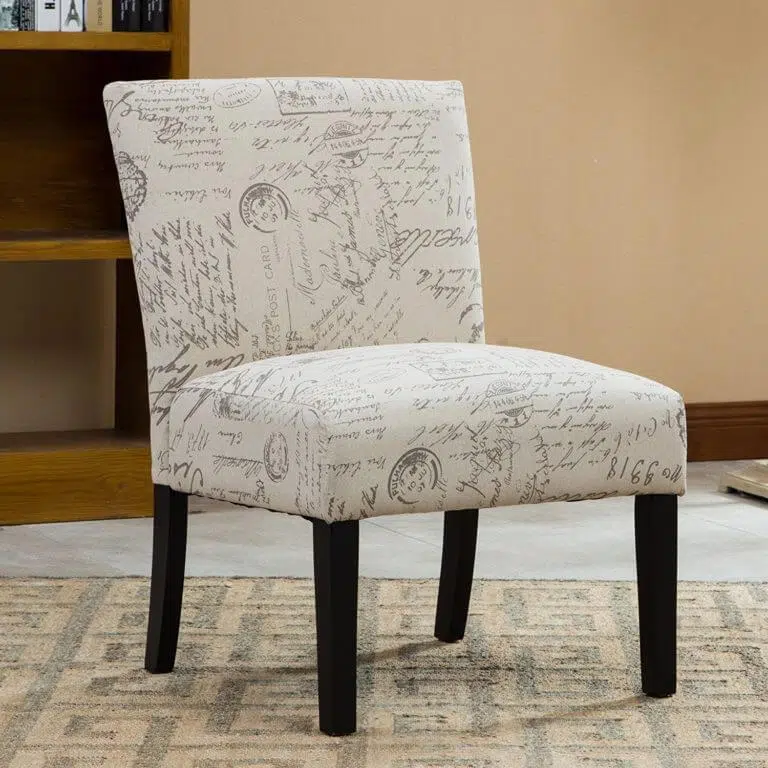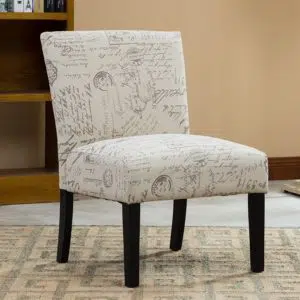 If you are looking for durability and comfort in one package, this contemporary accent chair from Roundhill Furniture makes an awesome choice. The chair is made out of polyester cotton fabric with sturdy legs designed for longevity.
Pros
Great padding at the back and the seat for comfortable seating

The chair's trendy woven French script inspired pattern instantly adds charm to your bedroom

It has a tight and firm upholstery and a solid wood frame foundation

Easy to assemble

Perfect for small spaces
Cons
The chair stands lower than the average ones

Not ideal as an office chair or when you want to work from home. It is quite a bit low for a standard desk's height.
Available in taupe and cream color, this armless accent chair offers a sophisticated style without compromising comfort and durability. It comes with an excellent pricing which is truly a great value for your money.
3. Eggree's Modern Velvet Accent Bed Room Chair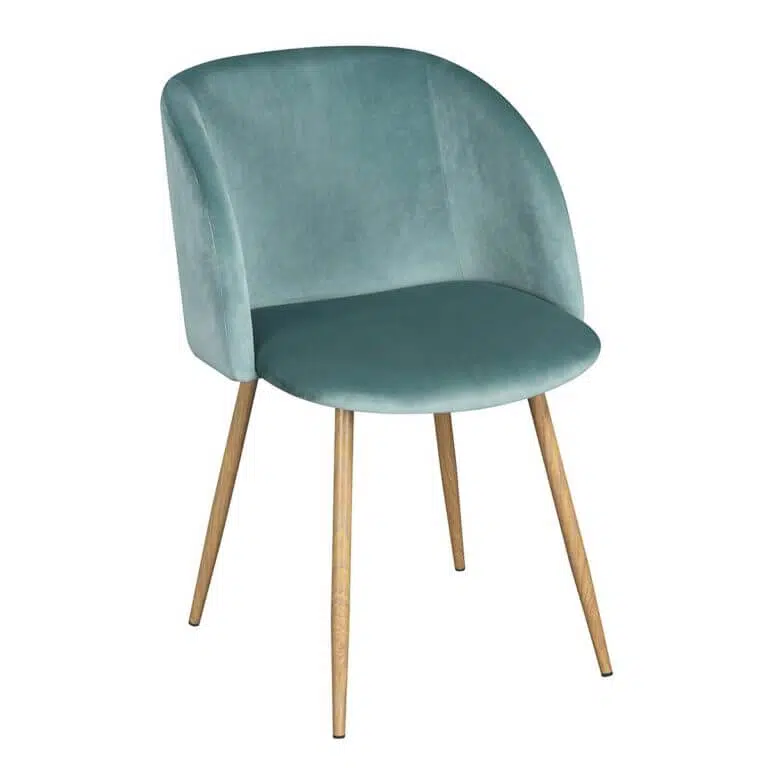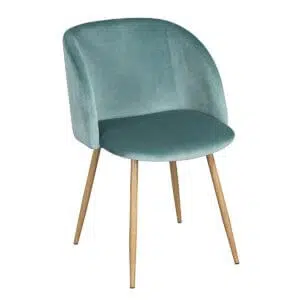 Upgrade the looks of your bedroom with this velvet accent chair from Eggree. This chair highlights an ergonomic back support structure for truly convenient seating.
Pros
It has a stylish and gorgeous modern look

Easy to assemble in just a few minutes

Its legs have solid looks but is lightweight and easy to move around.

It features a practical curve design and deep seat for a comfortable sitting. (Even for those people who are taller)

It has a great height. Especially great for the desk or under the table in the reception area.
Cons
Made with an excellent soft cushion and stainless-steel legs, Eggree's velvet chair will make a fabulous addition to your room. The velvet fabric makes it an elegant piece of furniture in the bedroom or the living room.
4. Carvapet Luxury Soft Faux Sheepskin Chair for Bedroom (super comfy and great for reading)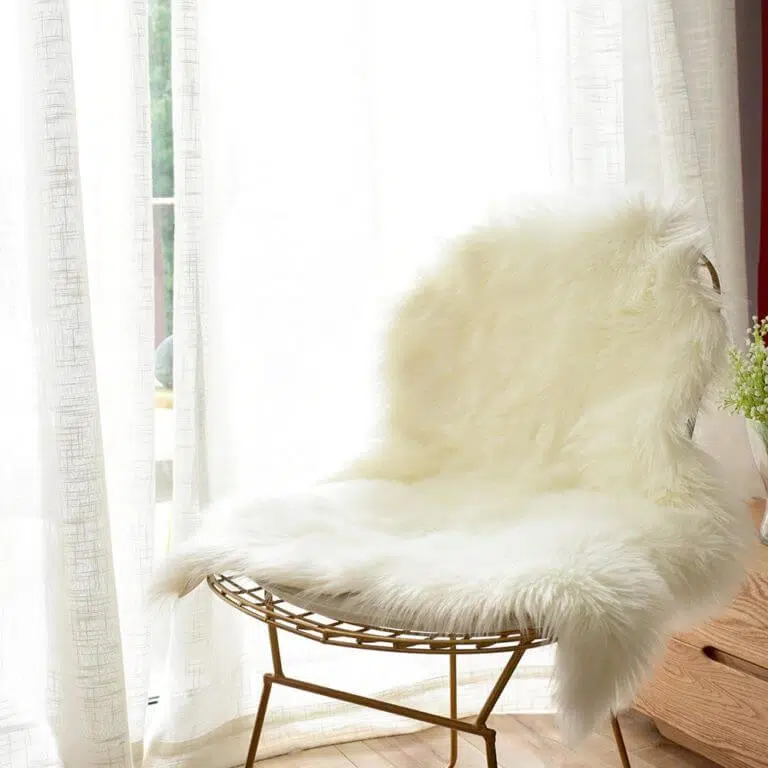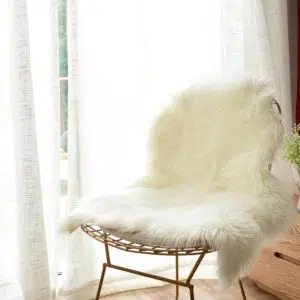 This gorgeous soft faux sheepskin cushion makes not only an exceptional seat cover but also offers luxurious comfort when you just want to get down on the floor for a cozy curl up.
Pros
You will love this plush fur cushion because:
It is amazingly soothing and soft to touch

It adds a unique and luxurious accent to your room

Your pet will definitely enjoy using it

It offers extra coziness and may even promote sleeping

It is quite

cheap

in exchange for its quality and the additional comfort it offers

Great for reading
Cons
You may not like this plush fur because:
It may come in smaller for your needs

Its size is relatively

small

and may get short in covering your chair all over
A great must-have decorative accent piece, this Carvapet Soft Faux Sheepskin cushion pad is made of an artificial wool on the front side. The back side, on the other hand, is made of soft ivory suede. It has the softness you and your pets will surely love.
5. Small spaces No. 2 – Roundhill Furniture Botticelli  Contemporary Accent Chair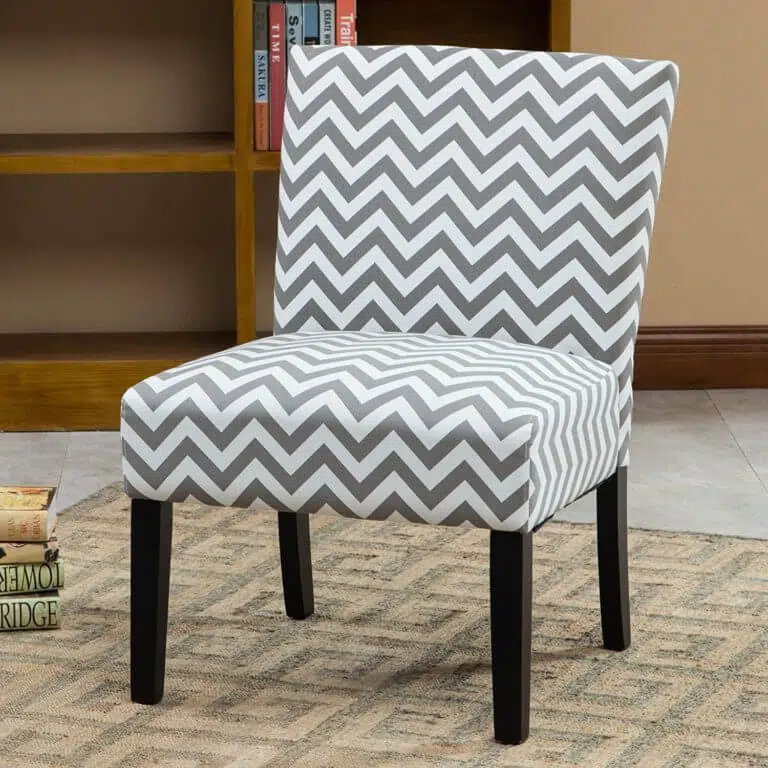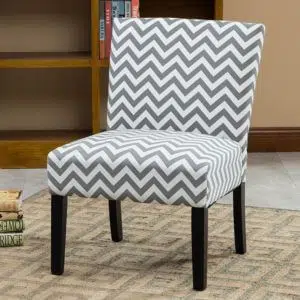 This armless accent chair from Roundhill Furniture is made out of polyester cotton fabric and comes with sturdy wooden legs with a classy deep espresso finishing. It features a tight upholstery design and quality construction designed for longer, even lifetime usage.
Pros
It offers animpressing high-density foam padding for the back and the seat for maximum comfort sitting.

Its contemporary digital fabric printing design easily gives a modern and sophisticated look to your bedroom.

It is incredibly easy to put together.

Great in small spaces

A plush chair which looks surprisingly great for its very economical price
Cons
It is a bit on the small side

It may serve best as an accent chair only as it is pretty much low for a desk. If you are thinking of using it as an office chair you might need to consider this.
This modern style armless accent chair offers a totally bomber look in your bedroom and best of all, it is easy to assemble.
6. Urban Shop Faux Fur Saucer Chair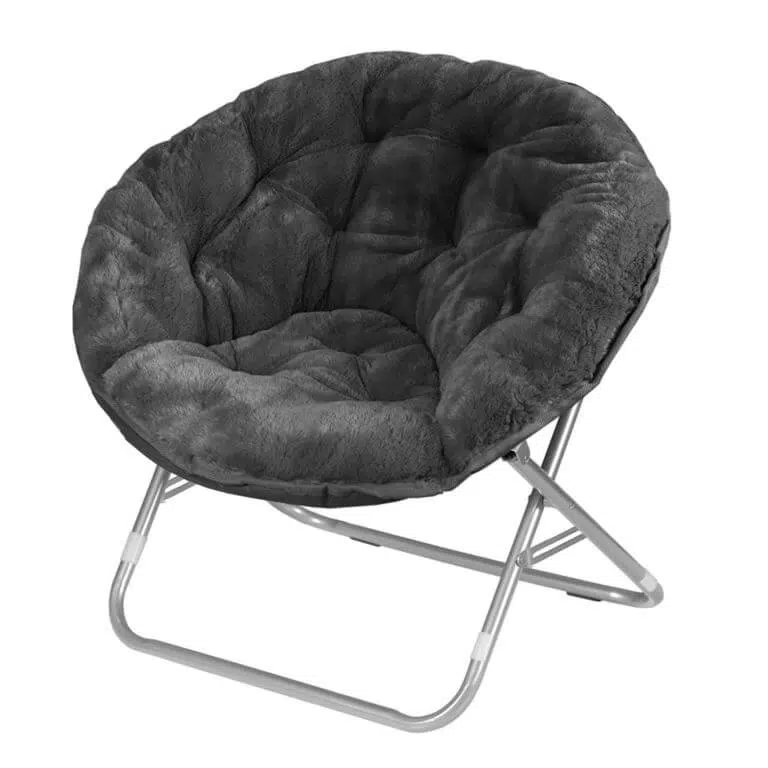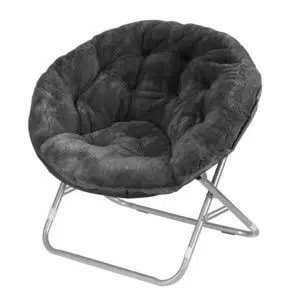 Perfect when you have a small or limited space in your room, this saucer chair makes a snuggly chair without occupying much space. It comes with a decorative modern design which instantly adds an upgraded look to your bedroom.
You will like this Faux Fur Chair because:
Pros
This folding chair is easy to put together without the need for time-consuming assembly. It simply opens and folds just as easy for storage purposes.

It is soft and fluffy great for when you just want to curl up to unwind, read and relax

The black color makes an exuding elegant look

It comes with a sturdy metal frame
Cons
The chair is quite small and may not be able to accommodate people with bigger body frame

It stands lower to the ground than most average chair

When the chair gets messy, you can't wash it. It is only good for spot cleaning.
So, if you want a functional seat in your bedroom that will not eat up a lot of room space with an added trendy look, this saucer chair from Urban is your excellent option. 
7. Big Joe Dorm Bean Bag Chair, Stretch Limo Black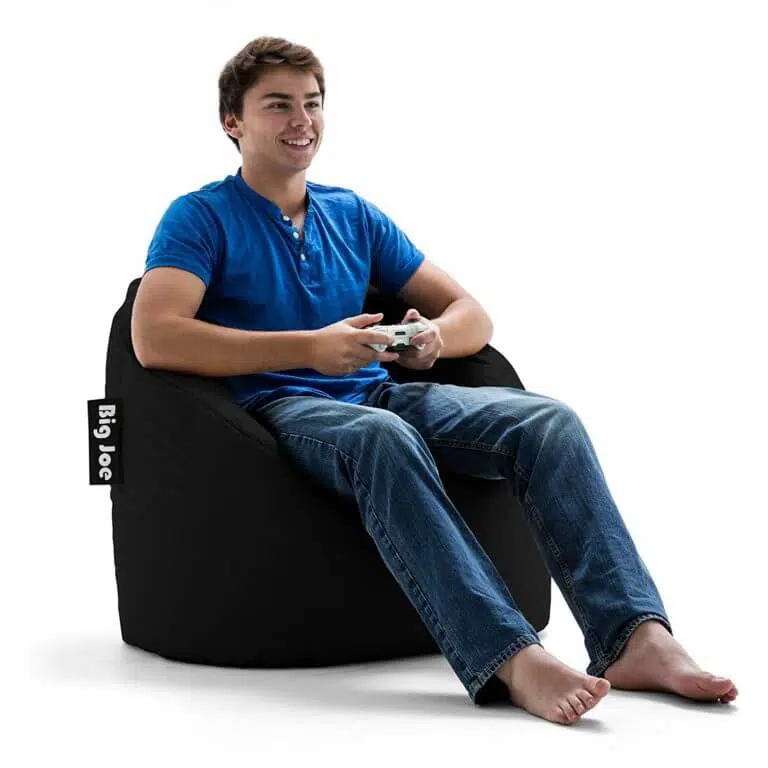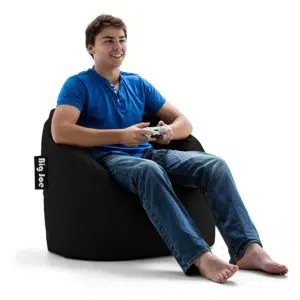 Made out of SmartMax fabric, this Big Joe bean bag chair comes with a bottle holder and functional built in pockets that can hold the remote controls, smartphones and even books pretty well. Its double-stitched cover and quality materials are a display of durability and quality construction.
Pros
Made out of easy to clean fabric material for convenient cleaning using just a damp cloth when needed.

It is amazingly stain-resistant as well as water-resistant

It comes with a built-in handle so you can easily grab and move it to different rooms or areas in your house.

The shape and structure of the bean bag is a big plus for comfortable seating.

This bag uses environment-friendly products and is made out of recycled materials. The beans are also recyclable.
Cons
As the nature of most bean bags, the Big Joe bean bag chair has a tendency to quickly go flat.

A

review

from a customer states that the bean bag may be difficult and messy to refill

The bean bag may easily lose its form and may not be able to hold up in its shape for too long. This means you may need to invest more in refill beans from time to time.
This Big Joe bean bag offers excellent comfort for hours of sitting for watching movies or video gaming. It is also refillable and it's important to note that the UltimaX refill beans are separately sold.
8. Bedroom Chair for Teens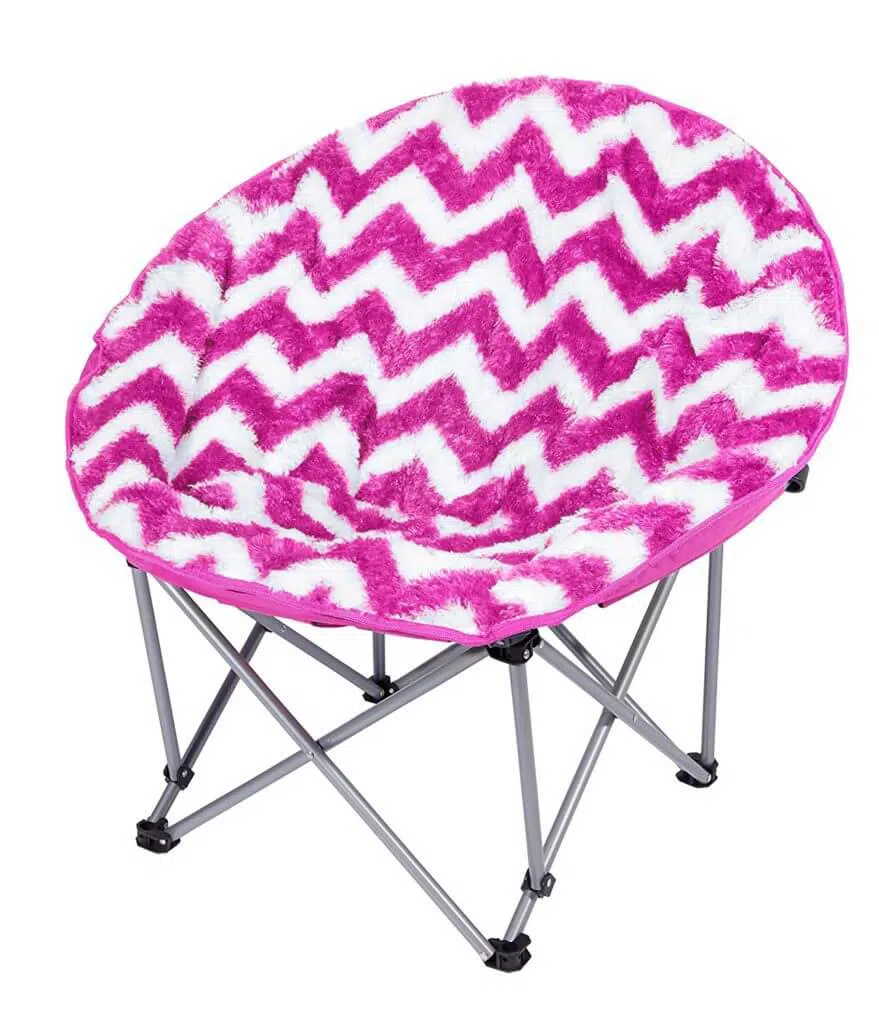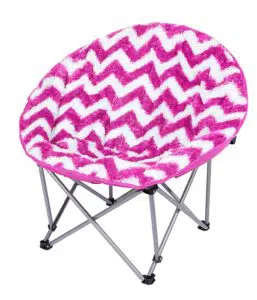 This saucer chair is perfect for Teens. You can choose between a pink and a blue version, which can come in handy especially when you have a daughter and son. (you dont want either of them to be jealous) It is also very suitable as a Christmas gift. Eventhough this chair is meant to be for teenagers, it holds up to 225lbs.
Pros
Great design
Collapsible
Perfect for teens
Cons
A little bit costly, especially for a kids chair.
Quick tips before purchase
The bedroom offers a much-needed comfort zone after a tiring and busy day. Getting the right furniture in your bedroom is important in keeping a practical and comfortable area in your house where you can rest or destress. Bedroom chairs are some of the most functional and versatile bedroom furniture you can ever have. In addition to the functionality they offer, they can also make a fantastic decorative accent to your room.
Now, here are some tips you may consider before buying the best bedroom chair for your needs
#1. Know the size of your bedroom
Knowing the size of your bedroom will help you realise what the possibilities and limitations of your bedroom really are. Determine the size or amount of chairs that you want to equip your bedroom with.  Your chair should not be too big to make your room look crowded. A smaller chair with just about the right size you will need for its purpose should be great.
#2. Decide the design
When choosing the bedroom chairs, you should also consider the entire bedroom's design. Deciding on the right colours and type will be essential to picking the right chair for your bedroom.
#3. Choose the right materials
Your bedroom chair's materials may vary from plastic, wood, rattan, metal, etc. When choosing the materials, you may consider cost and design. Apart from that, you may also consider its endurance and overall quality. A high price doesnt always mean that quality is guaranteed.
#4. Don't let a low price fool you
A lot of the cheaper options do in fact have a similar level of quality.
#5. Check the features
Look for the best and special features that may be included in the the offers online. Maybe the set that you're about to purchase includes an extra pillow or a footrest.
Buyers Guide – What to Keep in Mind Before Buying a Bedroom Chair
After a long day at work, your bedroom offers a private sanctuary where you can relax and recharge yourself from the daily grind. And, nothing beats the idea of having a cozy chair in the bedroom offering a comfortable place for you to sit down or curl up with a good book and a warm cup of tea.
Before making a bedroom chair purchase here are the things you should consider first:




1. Think About their Main Uses and Functions
Before choosing the bedroom chair, think of how you want to use it. Will you need a chair for a cozy seat for relaxation? Do you want a comfortable chair for when you need to catch up on your reading? Or do you simply need them to add style to your boring bedroom space?
2. The Materials
That chic looking metal chair may look good but is hard on the back and offers the worst back support. Choose the bedroom chairs that are made out of quality materials and most importantly offers the right comfort you will need.
4. Color
Your bedroom chair must be lightly colored as possible just like how your other pieces of bedroom furniture should be. The main function of your bedroom is for sleeping and relaxation. Choosing subtle colors, such as light pink or light blue, is important to maintain a relaxing ambience in your bedroom to promote quality sleep during the night.
5. Quality
It's always a wise idea to choose quality products that will serve their purposes for a longer period of time. It may cost you a bit more at first, but in the long run they are actually more practical.
Choosing the right bedroom chair is important to optimize the comfort levels you will need in your relaxation and sleeping place. Having the right pieces of furniture in your bedroom not only makes your bedroom a great place for your sanctuary, it can also make you more inspired and boost your creativity.
Amazon and Ebay are great places to find the ideal bedroom chair to suit your needs. Check out Amazon and Ebay now where you will have a variety of choices from the popular brands, designs, colors, sizes and more. Take advantage of the limited white sale offers and get more value for your money with affordable choices available. Don't shy away from comparing prices and reading the customers review before jumping into a decision to purchase a certain product.
Planning to buy a bedroom chair? The chairs on our list are certainly ones you should not miss out. More importantly, be sure to remember the few tips listed above. After all, it's your bedroom and achieving the best level of comfort for your bedroom is one thing you should not downplay.

Why  a decent price matters
Decorating a bedroom can become pretty costly, but it will not always have to. Depending on your budget there are endless solutions to pick from. Fortunately, with the different available products online, it will be easy to pick the perfect set of chairs without spending too much money. Stylish looks and quality materials are easy to find, even if you are on a budget.
Conclusion
Lastly, if you think this post is helpful in deciding which bedroom chair to choose, feel free to share this post. Remember, sharing is loving!
Our Top Pick is the Zenree Luxury Lounger Chair.
Further reading
Check out these interesting facts about bedrooms from Rubygemstone. If you are looking to further equip your place, make sure to check out our guide to finding the best living room chairs.