This post contains affiliate links.
Hanging chairs are a unique way to add comfort and flair to your living room, patio, entertainment area, or anywhere in your home that could where you would like to be able to relax in style.
The problem is there are so many options available. From your typical Hammock to chairs that are made especially for Outdoors, Two-Person or other Ceiling Chairs…  Who even knows where to begin when there are so many products on the market?
The 9 Best Hanging Chairs in 2023
Our handy guide (Updated 2023) will take the guesswork out of choosing the best hanging chair for your home.
Quicklinks: Find the best Hanging Chair according to your needs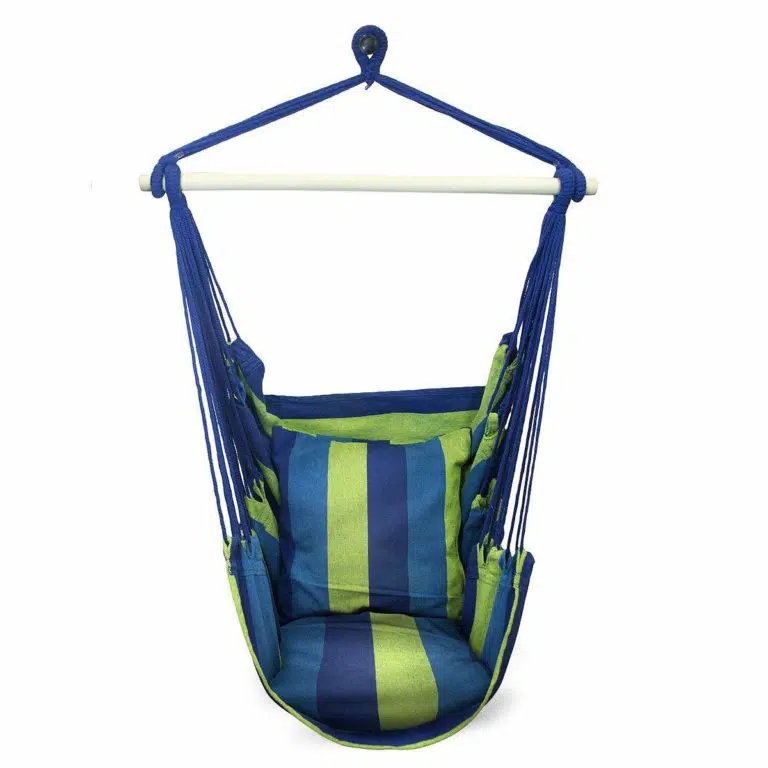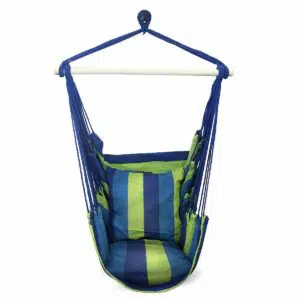 The Sorbus Hanging Rope Hammock Chair is a versatile option that is particularly well-suited for outdoor use. Because of the "hammock" style design, it can easily be hung anywhere in your backyard, patio, deck, or balcony, with minimal hassle in the installation process. It can even be installed indoors if you don't have enough outdoor space to accommodate it!
Thanks to the hammock-style design, you can easily relocate it if required. That is definitely a plus if you live somewhere with quick weather changes or high winds. It is made out of a combination of sturdy cotton and polyester materials, giving it a high level of durability. Moreover it is machine washable which makes it ideal for outdoor use as it will inevitably pick up dirt over time.
Pros
Easy to wash

Easy to relocate

Durable

Cozy "cocoon" design
Cons
Vibrant colours may be tough to match, style-wise

Installation hardware comes separately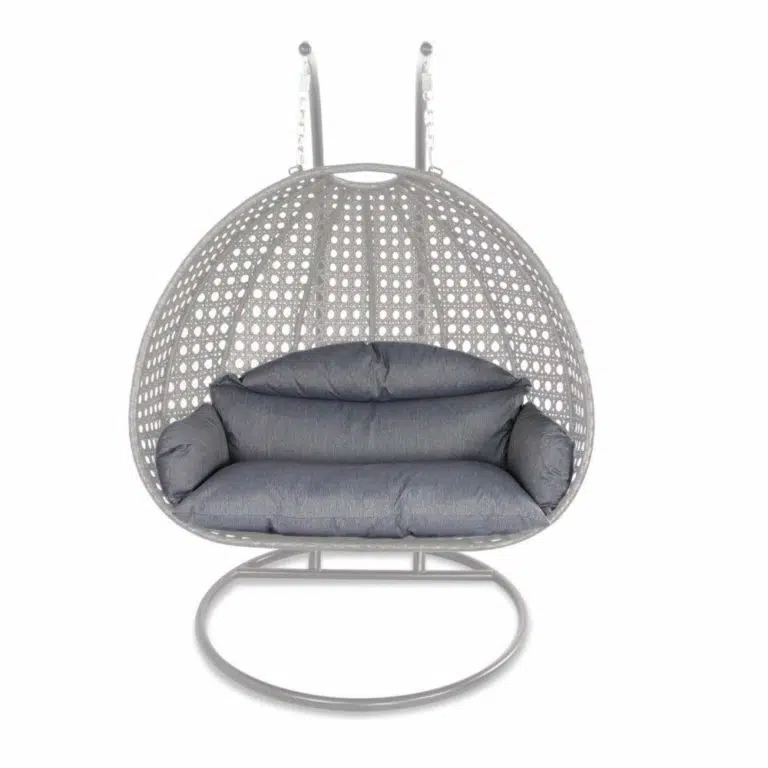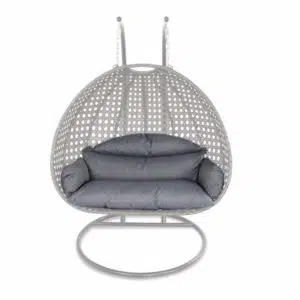 The Island Gale Overstuffed Swing Chair is a great choice if you are looking for something a little more roomy that you can enjoy with friends and family. It has a beautiful overstuffed construction which is not only visually appealing, but makes room for armrests and a back cushion for extra comfort. If you don't feel like sharing, you can even lay down in it and use the arm rest as a pillow!
It is made from UV resistant and water-repellent material which makes it great for outdoor use, and the cushions are made from a polyester which will add to the longevity of the chair, especially if it has to compete with the elements.
Pros
Oversized design great for sharing

Appealing construction

Couple of options for pillow color available
Cons
More pricey than some options

Large size may be difficult to accommodate in some spaces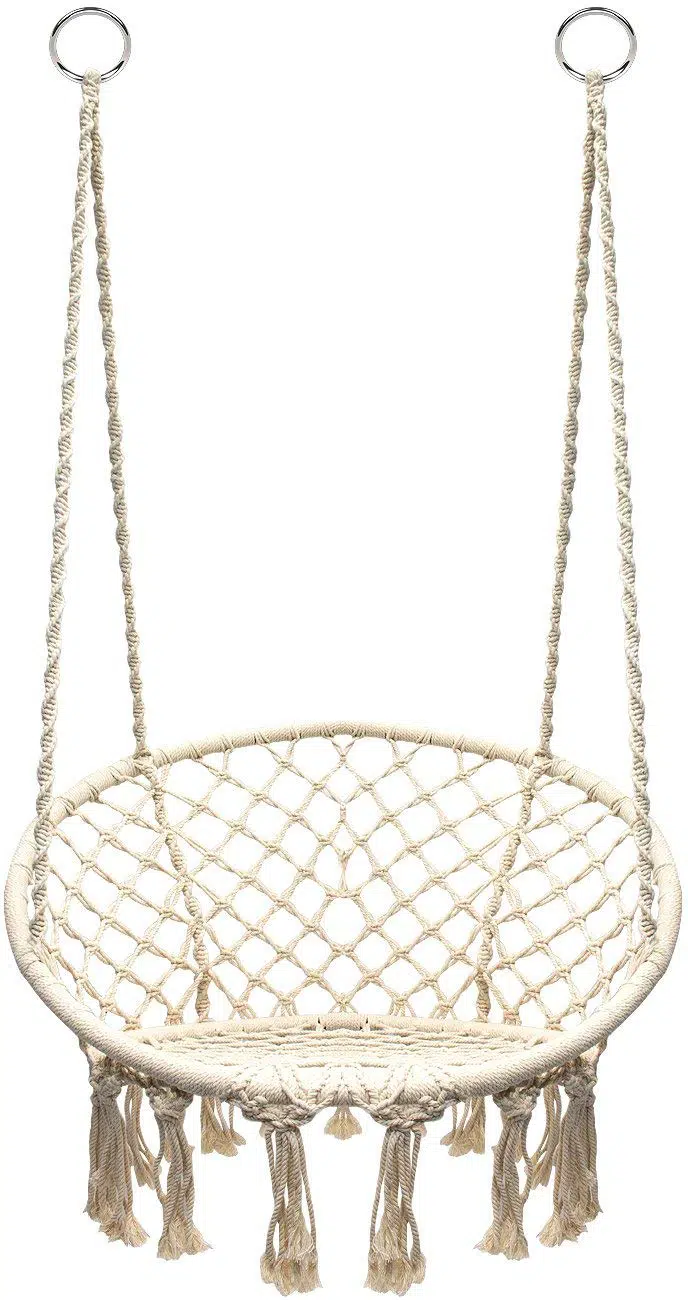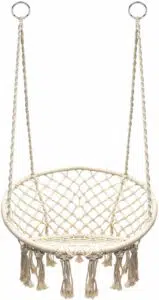 The Sorbus Hammock Chair Macrame Swing might be the best bang-for-your-buck hanging chair on the market. Even though it's inexpensive, the macrame-style design is very unique and doesn't give the chair a cheap appearance. Because of the open design, it is suitable for a variety of uses, whether as an outdoor swinging chair, a meditation chair, a lounging spot, reading nook, etc. The compact size means you will have no problem finding room for it either inside or outside.
The macrame rope is made from 100% cotton so you can rest assured that it will hold up, and the chair has a surprisingly large capacity of 265 pounds which is amazing considering the simplicity of the design.
Pros
Can't beat the affordable price

Macrame style is visually appealing

Suitable for a variety of uses, even as a decoration
Cons
Smaller than some hanging chairs

Ropes may be too short to easily hang from ceiling without additional hardware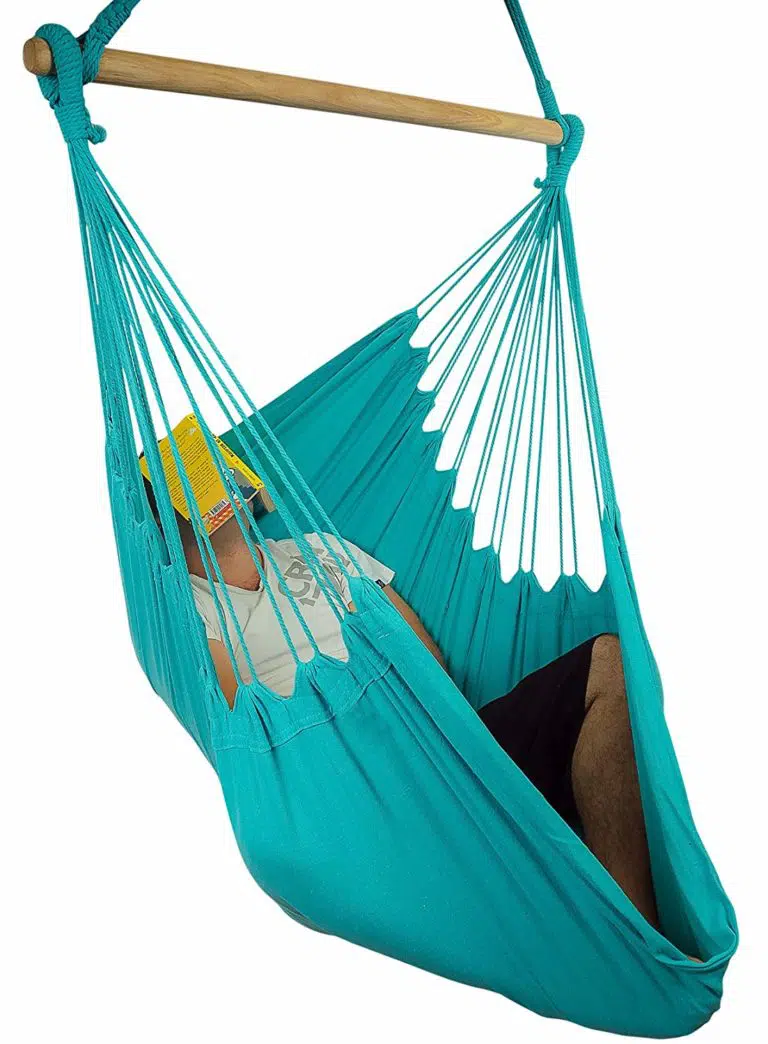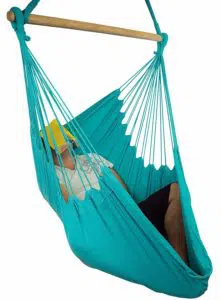 If you are looking for a hanging chair that you can absolutely get lost in, then look no further! The Hammock Sky XXL Hammock Chair Swing is another hammock style option, but this one absolutely takes the cake when it comes to size.
It's over 73 inches long, allowing even a fully grown adult to completely kick back and relax, and the soft cotton fabric will ensure that you feel extra cozy. It also has a higher weight capacity than similar chairs, 330 lb pounds, so would be great for almost anybody.
Unlike many manufacturers, Hammock Sky offers a lifetime warranty on this product so you can feel pretty reassured in the quality of the construction. Purchase also includes hardware and a detachable drink holder which really ups the value of this option.
Pros
Hard to beat in terms of size

Several color options

Lifetime warranty

Purchase includes hardware and drink holder
Cons
Design more focused on function than style

Less versatile than other options – better for lying than sitting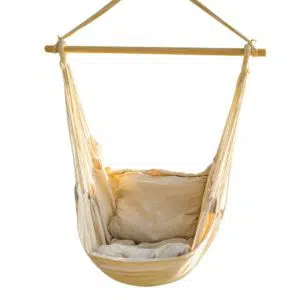 The CCTRO Hanging Rope Hammock Chair holds the honour of being one of the all-around best review Hammock Chairs available. It is fairly large for its class, and has room to fit two cushions, with a weight capacity up to 260 pounds. Like other hammock chairs, it is easy to relocate and is suitable for both indoor and outdoor use.
Customers on Amazon praise the sturdiness, quality of material, and the comfort of the chair, and it definitely is a good deal considering the low price. Furthermore it is also available in a variety of colors and materials so you can pick the style that best suits your home or outdoor space.
Pros
Affordable price

Highly rated by buyers

Myriad of colors and styles
Cons
Rope can absorb moisture and smells

May not be suitable for swinging without additional hardware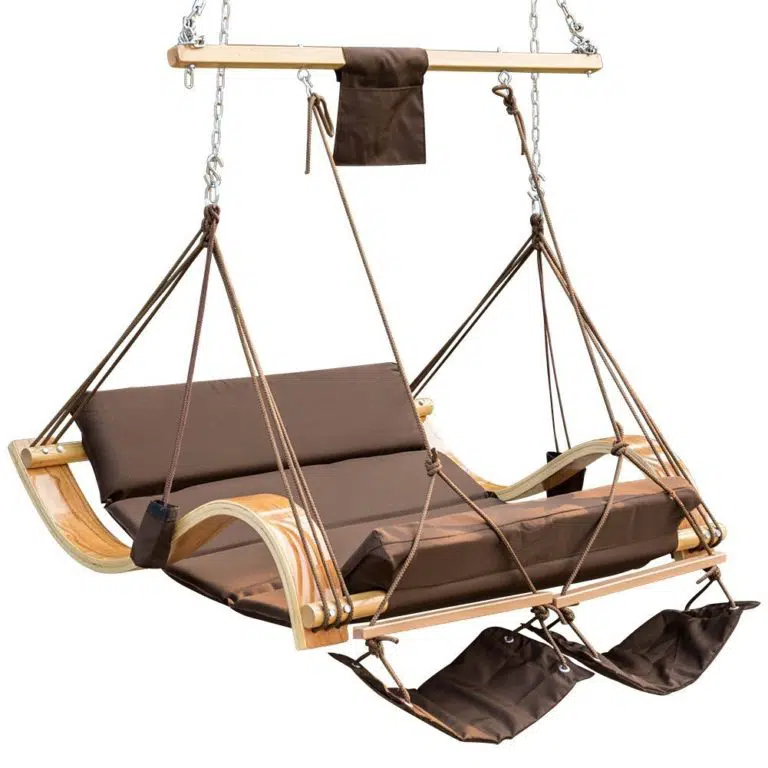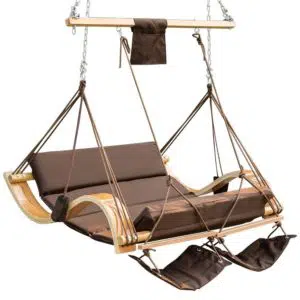 One look at the Lazy Daze Double Hanging Rope Chair and you know this thing means business. Whereas many manufacturers of hanging chairs go for simplicity, this offering comes with all of the bells and whistles including footrests, cupholders, and a pocket bag.
The design is a relaxed, cradling style which is ideal for laying down in for hours, especially if you can find a shady tree to put it underneath. It is made from 600-denier polyester material along with beautiful powder-coated hardwood with an oil-rubbed finish. If you are an entertainer who loves to impress your guests, or are looking for something luxurious to enjoy yourself, this would be the perfect choice.
Pros
450 lb capacity will easily accommodate two adults

Unique and high-quality hardwood material adds function and style

Tons of bells and whistles not found on other products
Cons
Higher price point

Will require more assembly than the typical hanging chair

Stand sold seperately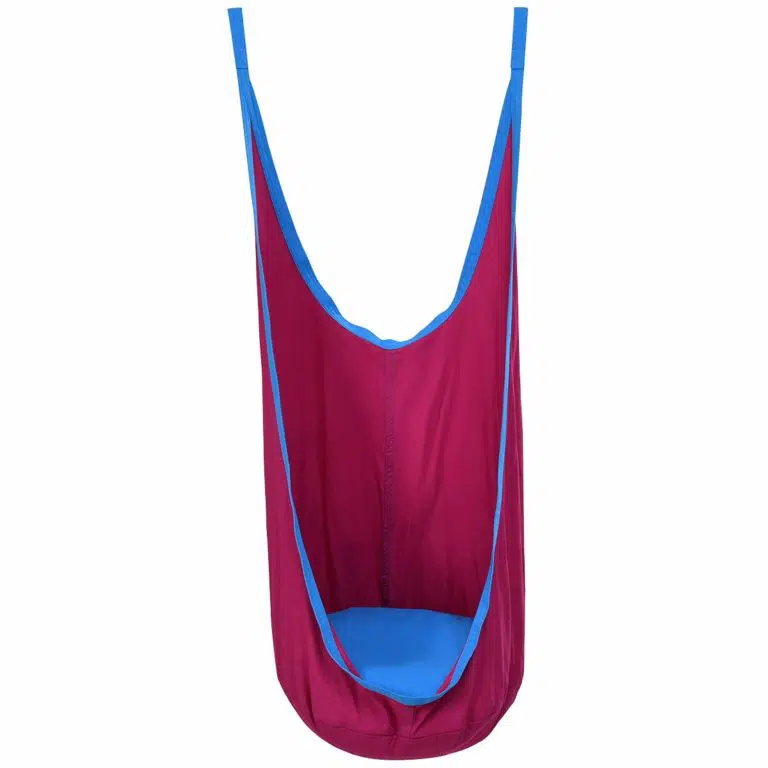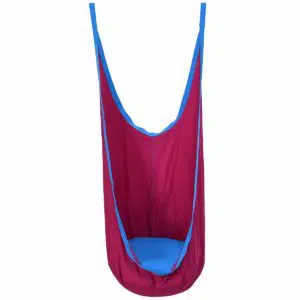 Kids like to relax too, and you can easily keep them distracted and out of your hair for hours with the Costzon Child Pod Swing Chair. This chair features a unique inflatable cushion which kids will love, and there are a variety of colors to choose from in case your child is picky when it comes to their hanging chair.
This is a "swing" style hanging chair made from a soft and durable cotton canvas which will be easy on your child's skin while still being durable and keeping its color. It also has a surprisingly high weight capacity so you don't have to worry about any accidents, especially if your child treats the chair a little roughly.
Pros
Affordable

Easy installation, order includes hanging hook

Great for both indoor and outdoor use

Can also be easily stored when not in use
Cons
Too small for adult use

Inflatable cushion can be damaged easily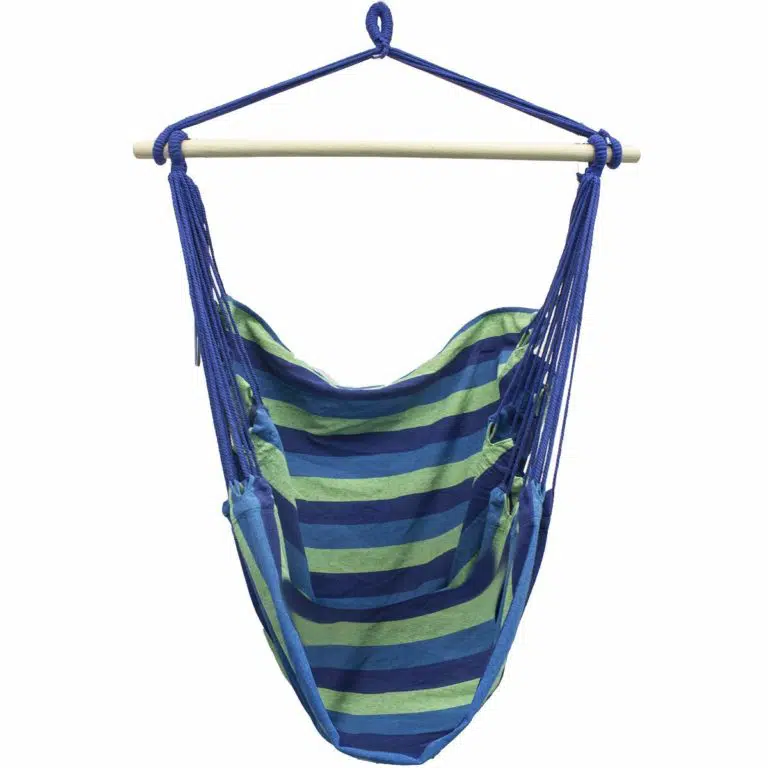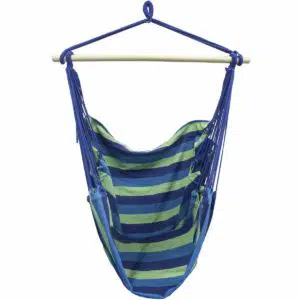 The Sorbus Brazilian Hammock Chair is a colorful and and simple option that definitely won't break the bank, going on Amazon for roughly $30. It has a couple of different options when it comes to colors, but either way it's definitely going to stand out wherever you choose to put it.
The fabric is a blend of cotton and polyester and overall the size of the hammock is pretty large which makes it suitable for all ages, while still being big enough for an adult to properly enjoy. The design also makes the installation of this chair very easy so overall it's worth considering if you're looking for something cheap, simple, and reliable.
Pros
Great price point.

Very easy to install

Good for indoor and outdoor use
Cons
Thinner ropes can be a problem with repeated use

Polyester fabrics can stretch over time if not maintained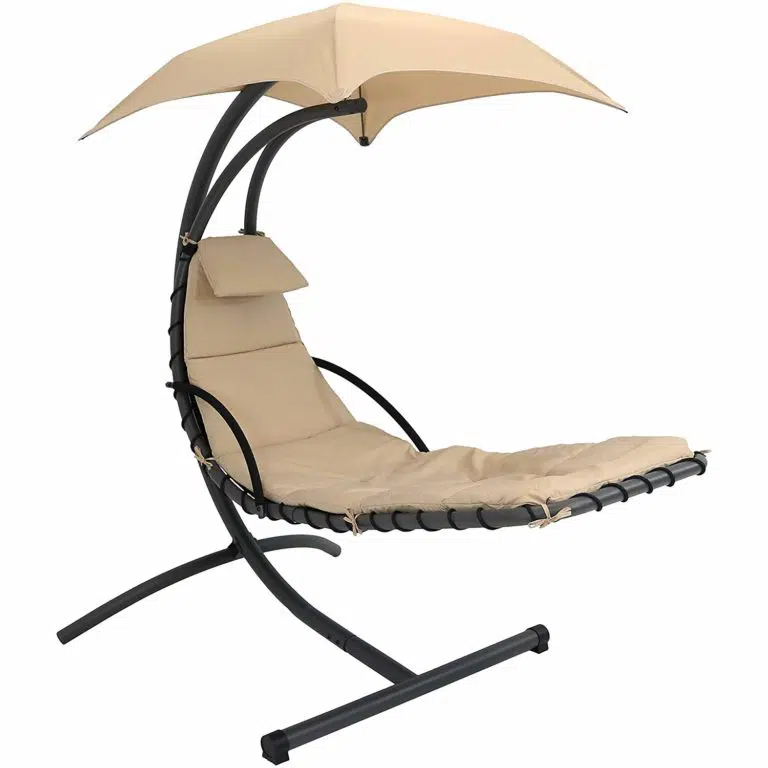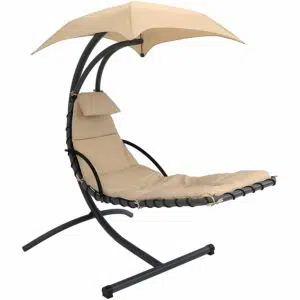 The Floating Chaise Lounger Swing Chair from Sunnydaze features a unique design that includes a canopy for those rainy days where you still want to spend your time enjoying the outdoors. The umbrella is also great for blocking sunlight so you can relax in comfort without having to worry about getting burnt.
The profile of the chair is curved which allows you to sit in a very comfortable and relaxed position without having to make adjustments to the chair. The frame is made from powder-coated steel which not only looks great, but will have no problem handling a high load. Another bonus is that the umbrella is removable, so if you would like to spend your afternoon catching some sun, then you can do that too!
Pros
Detachable umbrella/canopy is a huge bonus

Curved design is great for lounging

Made from high-quality materials
Cons
Heavier than some hanging chairs

Chair can only be attached to included frame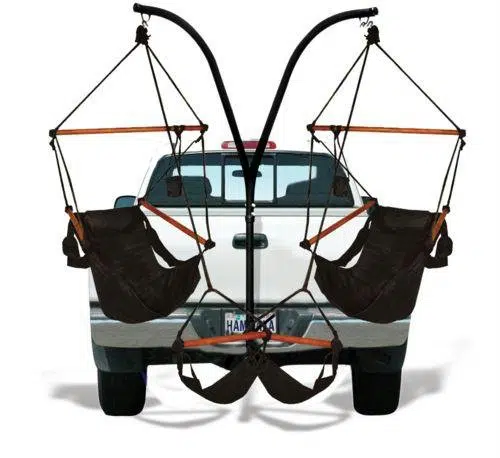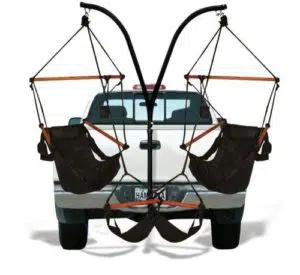 This is a unique piece that won't necessarily work for everyone, but is absolutely worth it if you have the right type of vehicle to use it with. The Hammaka Trailer Hitch chairs are designed to attach directly to the hitch of a pick-up truck, RV, or SUV so that you can relax wherever you go. If you are somebody who travels often, or loves enjoying the outdoors, then this would be the perfect choice for you. It also makes a great gift for the outdoor enthusiast in your life.
The system includes 2 chairs with a combined capacity of 500 pounds, and features such as detachable headrests, footrests, cup holders and carrying cases. It is manufactured from high quality materials such as powder-coated steel, wood, and polyester fabrics.
Pros
Take your hanging chair with you anywhere you go

Compatible with any vehicle with a standard size 2 inch hitch

Easy to collapse and store
Cons
Needs to be mounted/remounted frequently

Requires some initial assembly
Things to Consider Before Purchase
Now that you're familiar with some of the best hanging chairs 2023 out there, here is a guide to some things to consider before making a purchase.
Outdoor vs Indoor?
A big factor in selecting the perfect chair for your lifestyle is whether you will be using the chair outdoor, indoors or both. Obviously this will depend on how much outdoor or indoor space you have, the climate where you live, and the type of activities that you would like to do while using the chair.
While many hanging chairs are versatile and can be used both indoors and outdoors, this is not universally the case. It also depends on what type of mounting system the chair has. For example, a chair with a rope-mounting system will probably be difficult to install indoors as there will be nothing on the ceiling to tie it to. Also consider the size of the chair and whether it would fit inside your home before buying. For more outdoor chairs please refer to this guide on inflatable chairs.

With or Without Stand?
Some chairs come with an included stand which can greatly simplify the installation process. Others do not include a stand, so you will have to find a suitable place to mount the hanging chair, or else buy make another purchase of a stand that is compatible with your chair.
It goes without saying that this would make the overall cost of the chair more expensive. A stand can also make it much easier to relocate the hanging chair if you decide to move it around. Lastly, you can simply move the stand and the chair together without worrying about remounting.

Which do you find the most comfortable?
Of course, comfort is a matter of preference and opinion, but this is an important question to ask yourself when deciding on what type of hanging chair to purchase. Some are more suitable for an upright sitting position, some are meant for reclined sitting, and some are best suited for lying down completely. Furthermore, some chairs will have more of an "open" feel which will allow you to enjoy your surroundings, while some will be more enclosing and give more of a cozy or snug feeling. Consider your preferences before committing to any particular style.
Hanging Chair from Ceiling
If you are planning on hanging your chair from the ceiling, then there are a number of factors to take into consideration. First of all, does the chair you are considering come with the appropriate hardware for a ceiling mount? If not, you will have to do some research and purchase the appropriate hardware separately. Secondly, consider the weight capacity, as well as the actual weight of the chair that you are considering hanging from your ceiling. A good mounting system can avoid a catastrophe, but you should still be sure that your ceiling has the structural integrity to support the chair as well as the people who will be using it.

For kids
Kids have unique needs when it comes to considering the best hanging chair for them. One of the first things you should consider is size. Often, a larger size of hammock chair will swallow a child and not be as comfortable for them as it would be for an adult.
Children also tend to play pretty roughly, so you will need to make sure that the chair you choose for your child will be mounted in a safe way that can withstand a lot of roughhousing. Finally, consider the design elements of the chair and whether or not they would be safe for a child. Those with hinges or ropes could potentially be a bad idea depending on the age of the child.

Hanging Egg Chair – (Wat?)
Hanging egg chairs are very stylish options that are becoming a popular choice for both indoor and outdoor use. If you are considering one for outdoor use, remember that egg chairs often have an open design which will allow rain and other precipitation to fall onto the cushion.
Additionally, make sure the hanging egg chair you pick has a cushion with a moisture resistant fabric or at least a fabric that easy to wash and care for. When it comes to adding an egg chair to your indoor space, double-check the dimensions of any product you are considering and compare them to the dimensions of the space you would like to put the chair. This type of chair can be deceptively large so it pays to make sure that it will fit where you want to put it.

Hanging Swing Chair
Swing chairs are a lot of fun because they are not only a great spot to relax, but they also have the advantage of being entertaining, which makes them a great choice if you have kids. With that being said, the swinging motion can definitely exert some extra pressure on any mounting system that you may have, so it could be worth it to invest in a swing chair with a stand if you want to play it safe. Check the reviews of any swing chair you are considering buying, because sometimes products which are marketed as "swing chairs" won't stand up to repeated swinging motions.
For Bedroom
When considering a hanging chair for your bedroom, two of the biggest considerations are space and aesthetics. Bedrooms are rarely the biggest rooms in a house, and usually there will be a lot of other furniture taking up space. Make sure you choose an option that will fit nicely into the bedroom without getting in the way of walking around.
As for aesthetics, bedrooms are often decorated to a certain style with matching furniture, linens, art, etc. Take a look at hanging chairs with different materials and fabrics and make sure you are choosing something that won't disrupt the style of your bedroom.

Outdoor
Outdoor hanging chairs will definitely see a little more of the elements than their indoor counterparts, and will have to be able to deal effectively with moisture. The materials that an outdoor unit is made of will make all the difference in this case. Make sure that the materials can handle moisture and cold well. For example, polyester may wick water better than cotton, and any metal materials should be stainless or at least treated to be water resistant.
Another factor to consider is how you will mount your hanging chair outdoors. Hammock styles are very popular for this reason because they can be easily mounted to trees or other outdoor fixtures.

By the pool
If you plan on placing your hanging chair by the pool, then the main consideration will be the extra features of the chair. Lounging by the pool is all about kicking your feet up with a drink in hand, so you will probably want to look for a chair with armrests, drink holders, and footrests. If you spend a lot of time by the pool, then sun exposure is something to keep in mind. Likewise, you should look for products which come with umbrellas or canopies. Finally, as for any outdoor hanging chair, double check the materials and make sure that they can stand up to moisture and weather conditions.
Buyers Guide 2023
If you are in the market for a hanging chair, this buyer's guide will help you get the most bang for your buck.
Price
Price is an important factor to consider, and hanging chairs can range anywhere from twenty dollars to hundreds of dollars. Luckily, this means that regardless of your budget, there will be an option out there that works for you. Set a price point for yourself before hitting the market and you will greatly narrow down your potential options, as the huge selection of hanging chairs can seem overwhelming otherwise.
Ask yourself if you consider this purchase to be an investment, or just something to entertain you over the summer or when guests come over. Higher quality hanging chairs can definitely be resold, so this might allow you to budget for a little more than you would usually spend.
Quality
Not all hanging chairs are made the same, and this is reflected in the quality of materials, the accessories, the hardware, and the customer support of each product. A good place to start would be to look for chairs that have some kind of product warranty or satisfaction guarantee.
This usually indicates that the manufacturer stands by the quality of the product. If the information is available online, get as much detail as you can, including pictures, that indicates whether the hardware and materials are manufactured to a high standard of quality.
Versatility
There are some hanging chairs which are only really useful in very specific circumstances because of their design, while others are very versatile and can be used in different situations and locations. If you're looking for versatility, then you might want to look for something with a more simple, fabric-based design.
Some hanging chairs, such as pool chairs, are very specialized and obviously won't be very useful indoors. Likewise, a hanging chair system that attaches to a trailer hitch will only be useful in very specific situations, so keep factors like these in mind.
Height and Weight
There's nothing worse than ordering an item to fill a space, only to find that it doesn't fit because it is too large. Similarly, if you order a chair that is too heavy and compromise the mounting system, then this can lead to catastrophe. When shopping around for hanging chairs, always take a look at the dimensions and weight specifications. Manufacturers are usually pretty good at including these details, and taking careful measurements will save you a lot of trouble in the long run.
Structure
Some structure styles are naturally more resilient than others, so keep this in mind when considering the longevity of your purchase. Materials like steel and wood usually have good integrity and you can count on them to last a long time. Rope, on the other hand, needs special care in order to avoid getting frayed and stretched over time. A rigid, chair-like structure might be better than a hammock-style chair if you are concerned about long-term structural integrity.
Customization
Most hanging chairs don't have much in the way of customizability, so if you find a product that allows for some customization, it may be an added bonus. Consider whether or not the fabrics can be easily switched out, or, if the chair has features such as cup holders or an umbrella, whether these can be easily removed or reattached.
Material
The material of a hanging chair will dictate its aesthetics and durability. For outdoor use, material is an important consideration as it is important to choose a chair with materials that will be able to withstand the elements, such as moisture-wicking polyester or stainless steel. Fabric materials can also contribute to the comfortability of a chair, as certain fabrics will be warmer and less abrasive on the skin. If you have any allergies to certain materials, make sure you do your research before making a purchase.
Comfortability
As mentioned above, the fabric used in the cushioning of a chair will be a big factor when it comes to comfortability. You will want to look for materials that are soft, warm, and retain their shape well. Furthermore, consider the extent to which it is possible to lay down or recline in a chair.
Certain chairs are better suited to seated positions, while others are more conducive to lying down in an extended position. Sag is also an aspect of the comfortability of a hanging chair. Some people enjoy a hammock-style chair which they can sink into and get lost in, while others will want something more rigid which probs them up and supports their joints.
Portability
Whether or not a hanging chair is portable depends on its mounting style, weight, assembly, and whether or not it includes a stand. Some hanging chair will need to be disassembled before being transported, which may make them a poor choice if you are looking for something that can be moved around easily.
Furthermore, chairs comprised of materials such as wood and steel will often be quite heavy and difficult to move without assistance, so keep this in mind. Overall, the best option for a portable hanging chair is something that is easily compacted, for example a hammock-style chair made from a light fabric.
Adjustability
If you want your chair to feel just right, then you will have to look for something with adjustability features. This is fairly rare for a hanging chair because of design constraints, but you may be able to find products which have adjustable reclines, footrests, and headrests if you look around. Some hanging chairs will also include adjustable mounting systems that will allow you to control the level at which they hang without completely re-mounting them.
Before you buy: Does it include the stand?
Not all hanging chairs for sale online include a stand, so you will have to look carefully at product descriptions to determine whether or not a stand will be included.
Stands can make the chairs more versatile and give you the option to move it around easily. Furthermore it will allow you to transition it from indoor to outdoor use without a painstaking mounting process.
 If you are looking to use your hanging chair in an outdoor space and don't have trees or other fixtures to hang the chair from, then whether or not a stand is included might be the most important factor when you are choosing a chair.
Opinions of previous buyers
One of the best ways to assess whether a hanging chair is a good purchase is to look at reviews and comments left by previous buyers. Shopping sites like Amazon are great because you will often find hundreds of reviews from people who have tried the same product. This way you will easily get an idea of its quality and the level of customer service you can expect.
Often, buyers will even include photos when they post their reviews, so you can compare how the product looks in real life to how it is presented in promotional photographs. This is also a great way to get a sense of its size in a real-world environment. Always do your own research, especially if you are considering a more expensive purchase.
Conclusion
Hopefully this guide has answered all of your questions when it comes to choosing the best hanging chair in 2023. In this day and age, there are so many products on offer that it can become overwhelming trying to find the exact right fit. We want to take the stress out of your search so you can get to the important part – relaxing in your hanging chair!
Our list of the best hanging chairs is definitely a great place to start, and in our opinion, these are some of the best products that you'll find online.
With that being said, there are definitely styles of hanging chairs that we haven't even touched on in this review, so you can use our buyer's guide as a foundation to explore what's out there while making informed purchasing decisions.