This post contains affiliate links.
What is most important when it comes to selecting the right heavy duty barber chair in 2023?
When shopping for a barber chair, price is important as is longevity but perhaps the most important factor is personal preference.
Read on to find the perfect fit according to your needs!
The best 3 Heavy Duty Barber Chairs in 2023
We have compiled a list of three of the most popular choices, so here are examples of barber chairs available to buy today: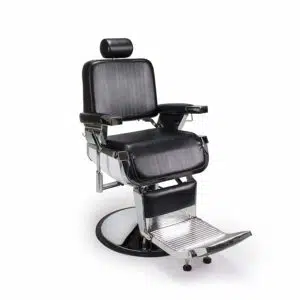 This is perhaps what people visualize when thinking of a barber chair. It has a high back, foot rest and the ability to swivel. Although the other barber chairs in this list may have a similar look, this one has been designed with a vintage look, making it even more like the ones we visualize in our minds.
At the time of writing, this particular chair cost around 500 USD which places it in the mid-price range for barber chairs. With a chrome finish and easy rotation through 360 degrees, it does not only look good but is also effective in allowing for all round access to the head. The pump can raise or lower the seat.
The high back of this chair can also be reclined allowing better comfort especially as it is covered with high density foam. This classic look is further increased by the chair being black in color and having a foot rest which provides for extra support. The load capacity is for 400lbs making it strong enough to easily hold most people safely.
Although called a barber chair this chair is also ideal for beauty salons and tattoo shops where a client's comfort is of importance.
Specifications:
Armrest Dimensions: 46″(L) x 10″(W)

Backrest Dimensions: 19″(W) x 16″(H)
Headrest Dimensions: 7.9″(W) x 4.7″(H)
Foot Rest Dimensions: 14.7″(L) x 17.3″(W), 12.2″(L) x 7.8″(W)
Seat Dimensions: 19.7″(W) x 17.3″(D)
Seat Height (adjustable): 19″-26″
Back Incline Angular: 135 Degree
Loading Capacity: 400Lbs
Product Size:45.5″(D)x26.75″(w)x41.25″/43.7″(H)
Base Diameter: 27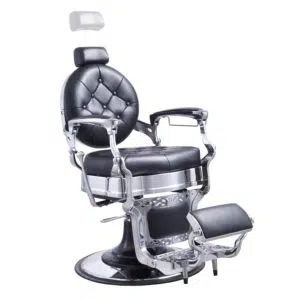 This chair must be considered to be in the premier price range with a price tag of around 1000 dollars. For added comfort this chair uses memory foam and for durability uses heavy duty vinyl. Its footrest is reversible and the headrest is removable allowing for more flexibility whilst cutting hair.
Perhaps the most noticeable feature is that it has an extra strong pump allowing for weight loads of up to 750lbs, considerably more, almost double, of that of the cheaper chairs.
Specifications:
Product Dimensions: 25.7 x 24.8 x 30.7 inches

Padded arm and calf rest plus padded reversible foot and leg rest
Pinpoint adjustable and locking headrest
Allows for 45 degree adjustable incline
Hydraulic pump allow weights of up to 750lbs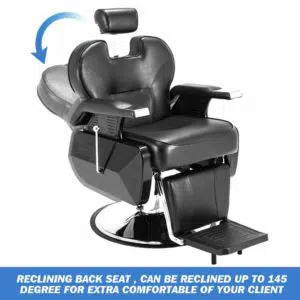 With a price around the 300 dollar mark this is in the low price range for barber chairs. Yet it does have somewhat similar features to the mid-price range Vintage barber chair.
Although not leather the PVC gives it the leather look and double reinforced sticking on the saddle helps prevent ripping and tearing. This heavy duty chair also has an adjustable headrest and the capability to rotate 360 degrees.
Specifications:
Product dimension: 43 x 28 x 39/43inches

Seat size: 19.68 x 20.87×5.9"
Pump lifting height: 10inch
Incline angular: 145 degree
Adjustable Height Range: Approx. 4"
Loading Capacity: 440lbs
Material: PVC leather
Stainless Steel Armrest
Padding: High density Foam
Similarities
Although all these chairs are black and have the traditional barber shop appearance, with the prices varying as much as one being more than three times the price of another, clearly the similarities must end there. In order for a chair to be considered a barber chair, it must of course have a back rest, be able to swivel and usually also include a footrest of one kind or another. These three can therefore all be classed as barber chairs as they have all these features but it is the quality of the materials and their durability which separates one from another.
The quality of the third chair, the Vanquish is obviously high as it claims to be able to facilitate loads as heavy as 750lbs which no chair of poor quality would be able to do.
Although the first chair with the Vintage look only claims a maximum weight limit of 400lbs, 40lbs less than the cheapest chair, the quality of the materials used seem to be better than the ones used on the cheaper chair. Despite its low price, a weight limit of 440lbs is very impressive and as seen, matches many chairs of much higher price.
Best Quality-Price Ratio Chair
With this example the best value for money chair would probably be the first one. Whilst this does have a slightly lower weight capacity than the lower priced one, the indication that better materials have been used should indicate that has been built for longevity.
The lower weight capacity is due to not allowing too much weight to jeopardize that long life. Although the additional cost of the chair may also include extra ornamentations to provide the 'vintage' look, they are minor and so the extra cost can be almost fully accounted for by more robust and durable materials.
Best for the Money Chair
The second chair, the cheapest is certainly an example that even though you may be on a budget, you do not necessarily miss out on any of the main features of a barber chair. However, as is all too often the case when shopping on a budget, the chair may not last as many years as the other two.
Despite its low cost this chair has the traditional look of a barber chair complete with swivel, footrest and padded arms. A headrest is also present as is padding for the seat which even has double stitching. In theory, this would ensure cheaper materials are given extra strength but even so, the materials are less likely to last as long as the materials used in the other chairs.
Best Premium Barber Chair in 2023
Obviously, as the price reflects, the Vanquish is the premium chair and does show some cause for it seemingly high price. The style and elegance is of course there but that is also present on the other cheaper chairs. However what probably screams premium more than anything else is its amazingly high weight limit of 750lbs.
This weight capacity is truly impressive and must allow for any size person to use the chair without fear of causing damage. The fact that it has been tested for these high weights displays that high quality materials have been used throughout. It also indicates that quality in the mechanized aspect of the chair. Otherwise the hydraulic pump would not be able to lift the seat with such a weight on it.
Keep this in mind before purchase
Although barber chairs may not be something everybody buys, when it does comes to buying one, the same considerations have to be made as when buying anything else. First among the considerations is usually of course the cost.
However for some people the cost is not the most important factor as some prefer quality regardless of cost. Those on a limited budget may have to forget the quality in some instances as they can only afford the cheapest. In conclusion, however, perhaps the best policy is to look for not what is the most expensive or the cheapest but instead look for what would provide the best value for money.
Conclusion
In a perfect world price and longevity should relate to the same thing but sadly today they don't. It would be far easier if you knew that the more you paid for something, the longer it would last. However other factors such as added adornments or rarely used additional features may account for the extra price. (and not the quality of workmanship and materials)
On the good side though is the fact that there are now online review sites which display reviews on almost anything you would want to buy and although some of these sites are paid to promote certain products, most of them give unbiased and truthful reviews allowing you to more easily decide which is the most appropriate item for you to buy.