This post contains affiliate links.
Buying the best inflatable chair for you couldn't be easier than it is when you use our handy guide to help make your decision! Read on and find out all about the aspects you need to consider before you make that big purchase!
Quicklinks: Exactly what kind of Inflatable Chair are you looking to buy? (Updated for 2023)
The Best Inflatable Chair for Adults (1): the Intex Inflatable Empire Chair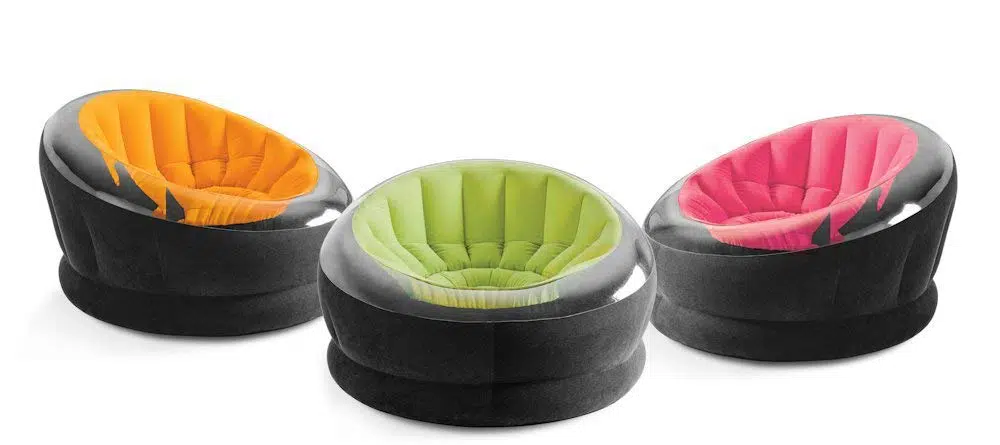 The Intex not only comes at a great price but it is available in a wide variety of colors to match any décor. One of the best aspects of this chair is the durable, two-ply and double stitched bottom that allows this to be used on the patio or in the garden. It uses extra wide openings and a combi-valve to protect against deflating as you sit and to make inflating it easier – and it's very affordable even to those on a budget. It has dimensions of 44 x 43 x 27 inches when inflated allowing for you to cozy up comfortably in a modern, stylish chair.
This model also contains a contoured, colored seat for your comfort, but still retains the waterproofing you would expect from a chair that might be used outdoors. This is a durable little model but our only complaint was the amount of time it takes to inflate and deflate.
The Best Inflatable Chair for Adults Number 2: The Intex Inflatable Ultra-Lounge with Ottoman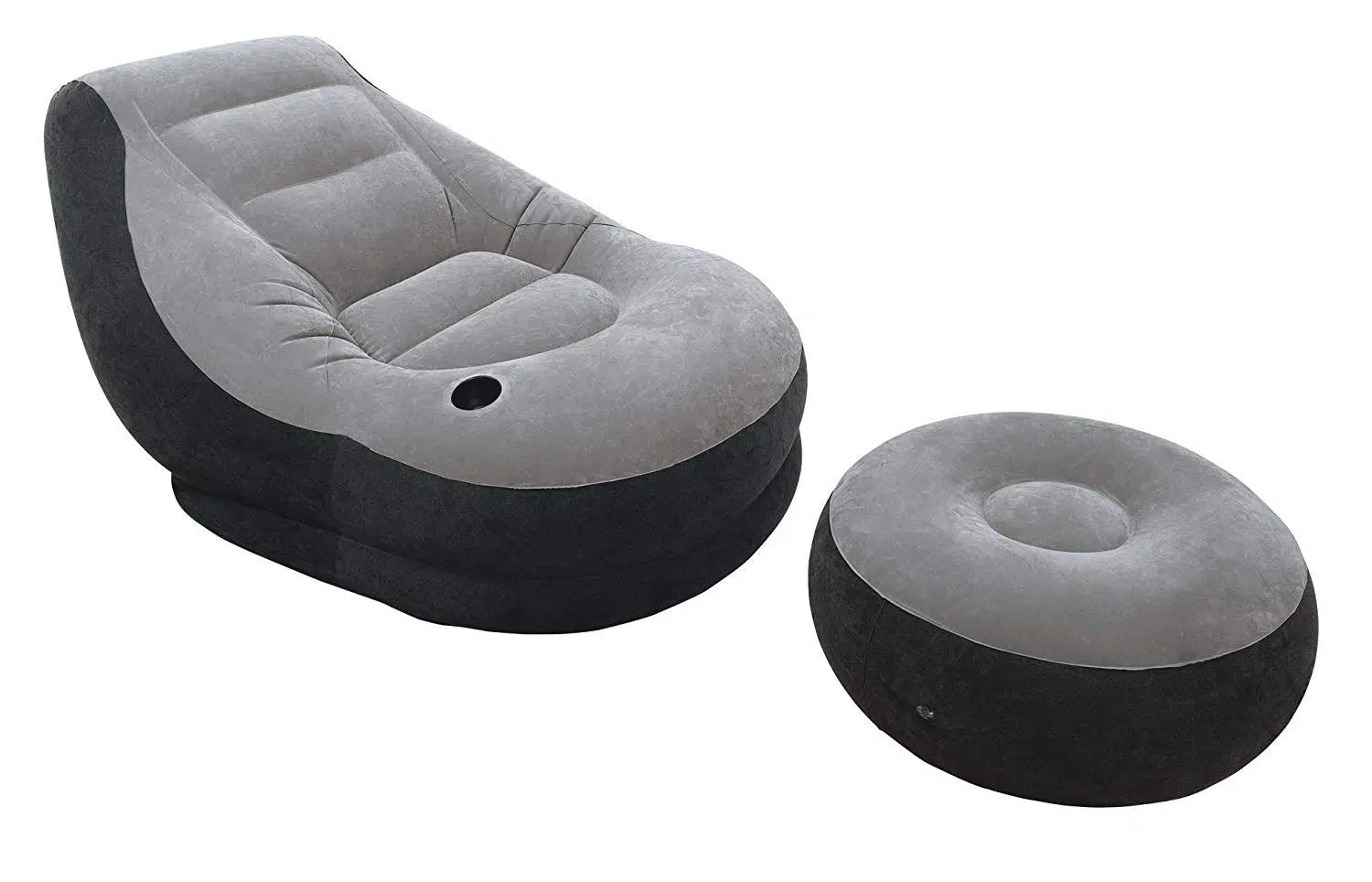 The second on our list of best inflatable chairs for adults is also an Intex – they just make really tough, long-lasting and hard wearing products. And the Ultra Lounge is no exception. This is a plush textured, wholly comfortable chair with an added ottoman thrown in just to sweeten the deal.
The Ultra Lounge is made from highly durable 20.8 gauge flocked vinyl. This choice of fabric means it is soft on the skin yet still highly waterproof – meaning this chair is perfect for tailgating or camping. It has a 2-in-1 inflate and deflate valve that allows for super-fast inflation and it folds away for easy storage. As if we couldn't resist this chair enough already Intex went and added a cup holder to a model of outdoor chair that couldn't be more ideally situated for camping life. It's not the kind of model that you would have in the house as it is quite spacious and tough – but anywhere outdoors would be improved by the addition of the Ultra Lounge.
The Best Inflatable Chair for Kids Number 1: Mockins Inflatable Hangout Lounger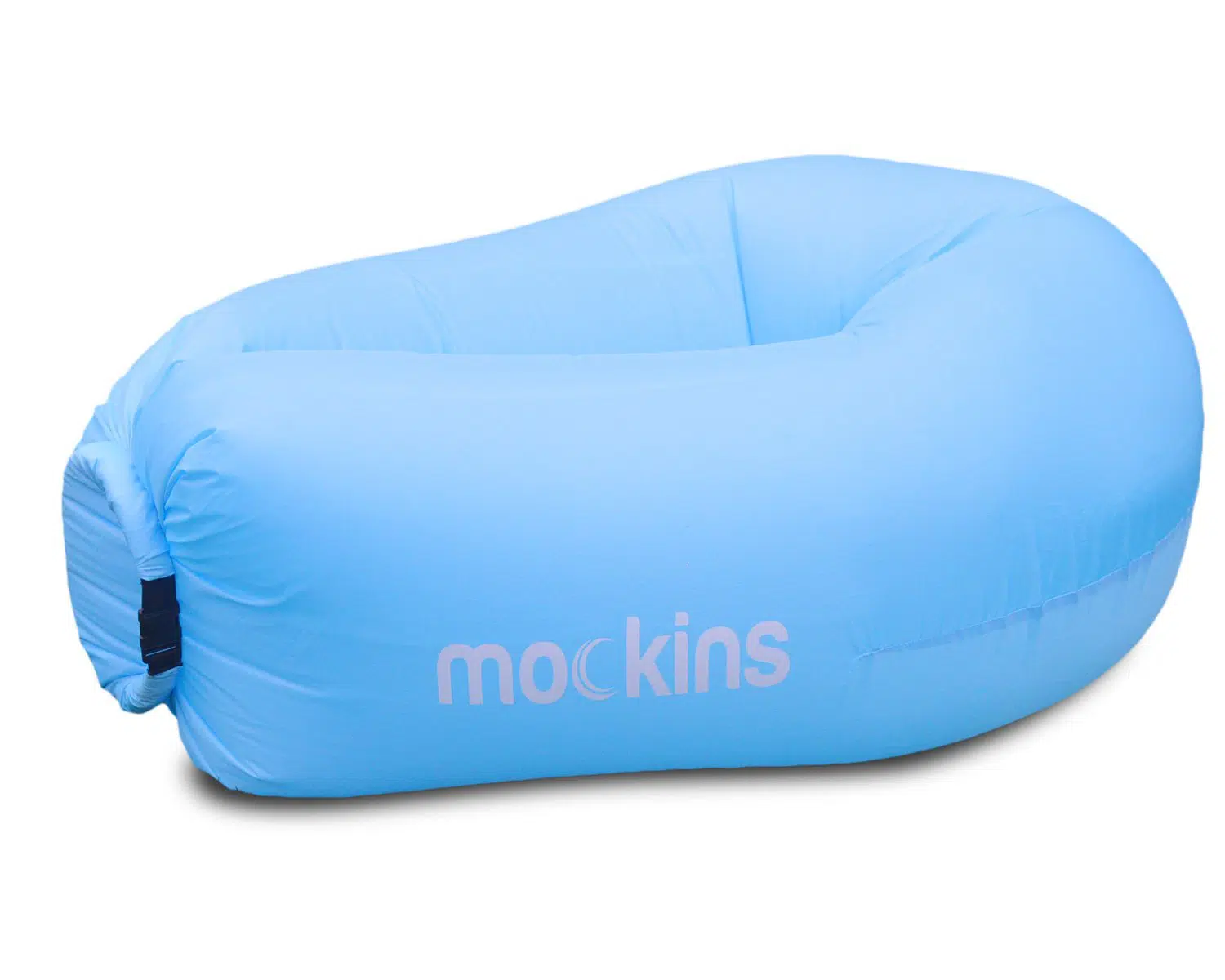 The Mockins Inflatable Hangout Lounger is marketed as a beach chair but is suitable for all outdoor uses, including camping, fishing or just playing in the back garden. This model is actually big enough to seat an adult comfortably, but is aimed at kids or even babies due to the bright colors and flexibility it provides. It is a fairly durable waterproof polyester fabric blend and when you buy directly from the manufacturer it comes with a warranty, too.
The best features of this product are that it inflates instantly when you open it up and 'scoop' enough air into it. It is lightweight and portable when deflated and comes with both a carrier bag and ample pockets for storage. This model does have a tendency to deflate over time, especially if you don't turn the sealing strap at least three times, but provided you don't leave it in the sun too long we think this is one of the best inflatable chairs for kids available.
Best Inflatable Chair for Kids Number 2: The Jsutyer Inflatable Backyard Lounger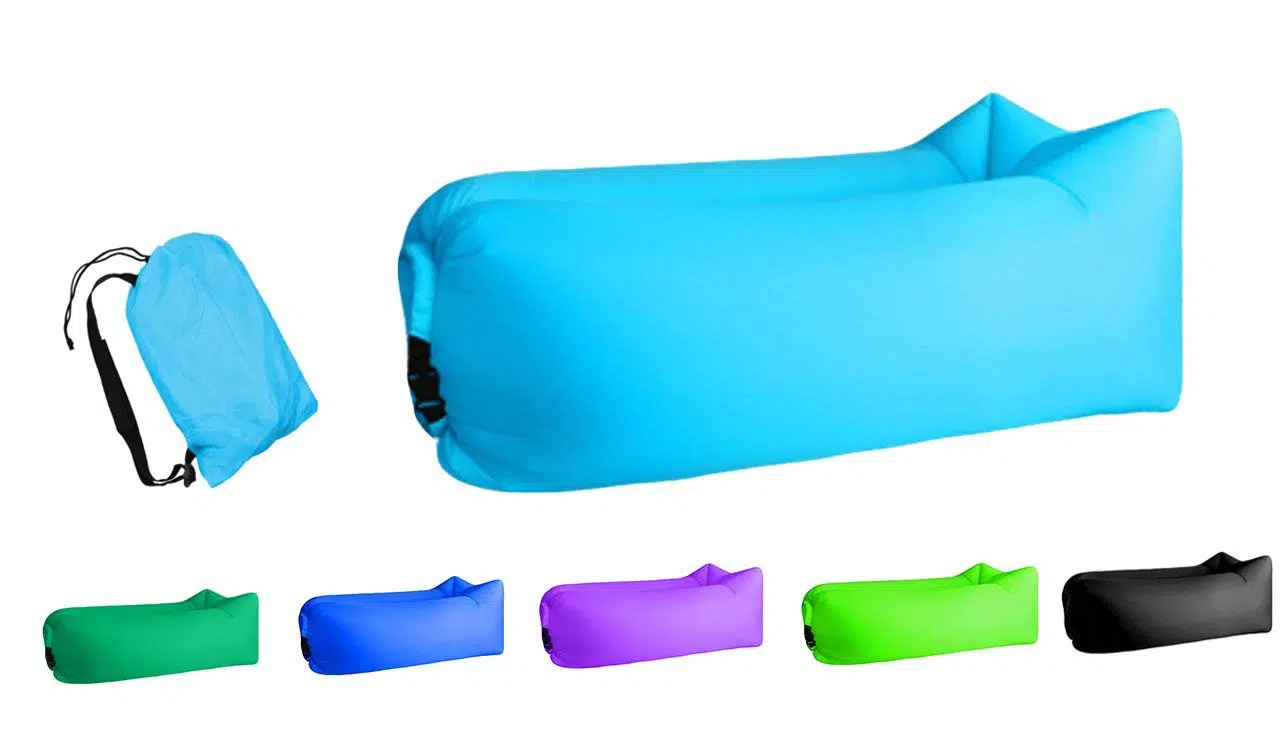 This inflatable chair comes in five vibrant colors and a 100% satisfaction guarantee! It is made of toughened 100% T10 Rip-Stop Polyester Oxford Cloth – so you know if it is hard wearing and long lasting. The color range is a little limited considering this is a kids chair but apart from that it is an excellent model.
The Jsutyer inflatable chair is suitable for the patio, garden, for camping or for the beach. It is  waterproof and suitable for sitting, lying or even for an adult. Furthermore it is lightweight and easy to assimilate into a camping kit and it inflates using the new technique of scooping air into the bag and tying it shut, meaning that it goes up super quickly and without you loosing your puff. On top of that it also has a unique square shaped head rest to maximize the comfort aspect. This bag has a comfortable design and will stay inflated for about five hours. It might need topping up but, for a portable inflatable chair aimed at kids it is a solid choice.
The Best Inflatable Lounger: The WEKAPO Inflatable Hammock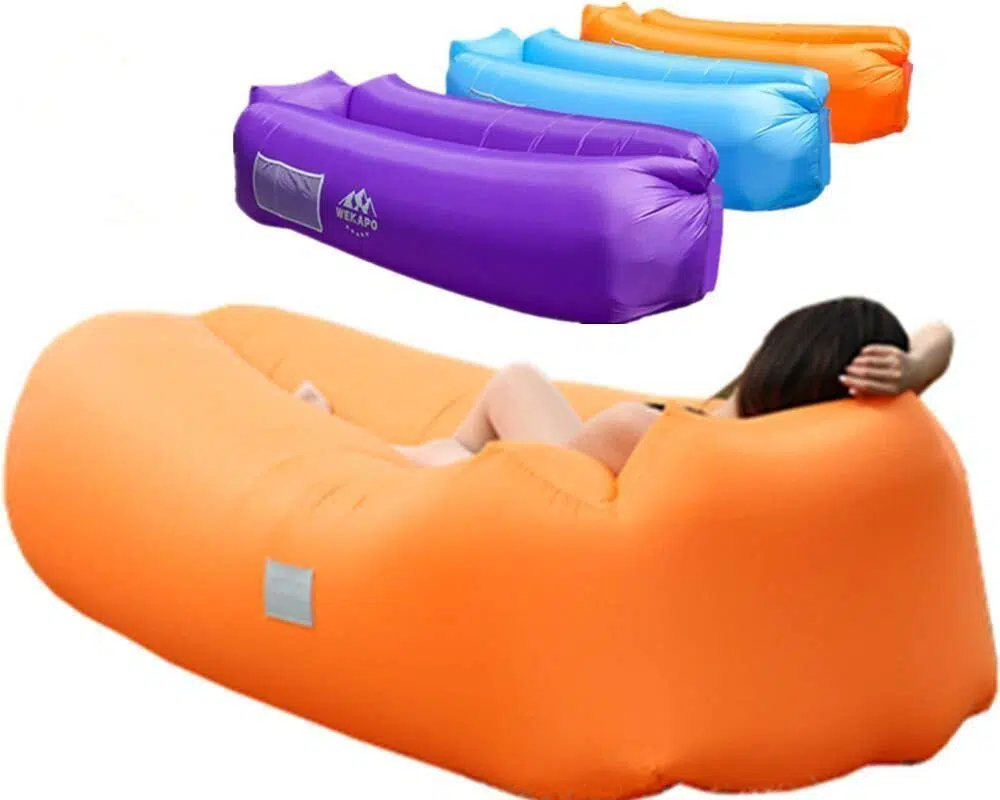 The WEKAPO is another bright and lively design of chair. It is longer and fuller, the point of which is to allow you to use it as a couch for more than one person, or as a sun lounger for one person to stretch out on. Moreover it comes in only six colors which is a little limited; but given that this is a camping-focused chair and it doesn't need to match décor we will let it slide.
This model is easy to inflate using the scooping technique but each panel must be held shut in between scoops or you will run into difficulty. The WEKAPO is quite long and is designed to be used outside, so it comes with a carry bag and a stake to stake it in place on windy days. When inflated it should last 4-5 hours without refilling. It features anti-deflating technology coupled with a pillow shaped head rest for your comfort. A solid choice for outdoor lounging anywhere, anytime.
The Best Inflatable Bed: The Intex Pull-Out Chair (Bed)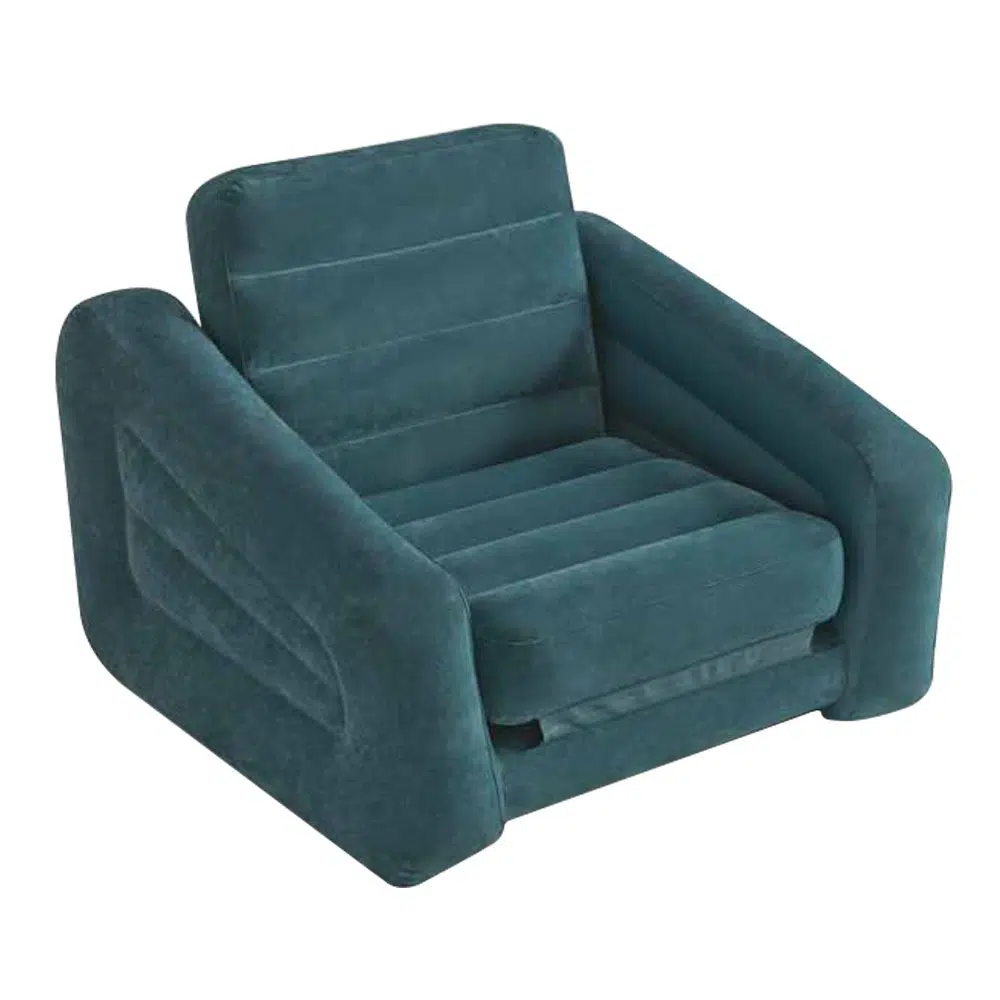 When it comes to needed a fast bed on the road the Intex pull-out chair is a great option. It is plush and velvety, has a super wide valve for easy inflating and deflating and starts off as a chair that easily folds out into a twin bed big enough for two! Exactly what you need for road trips, tents, and sleeping under the stars.
With dimensions of 43 W x 26 L x 86 H this model can be easily stored in a compact manner and is suitable for both indoor and outdoor use. The plush texture of the fabric does not lend itself well to rain though. Therefore we wouldn't go leaving it outside all year long. This inflatable bed has a load bearing capacity of 300 pounds so is capable of holding one large adults or two little ones. It is comfortable, soft and doesn't deflate overnight, a sound model for taking on the road.
Best Inflatable Cushion: King Athletic Stability Disc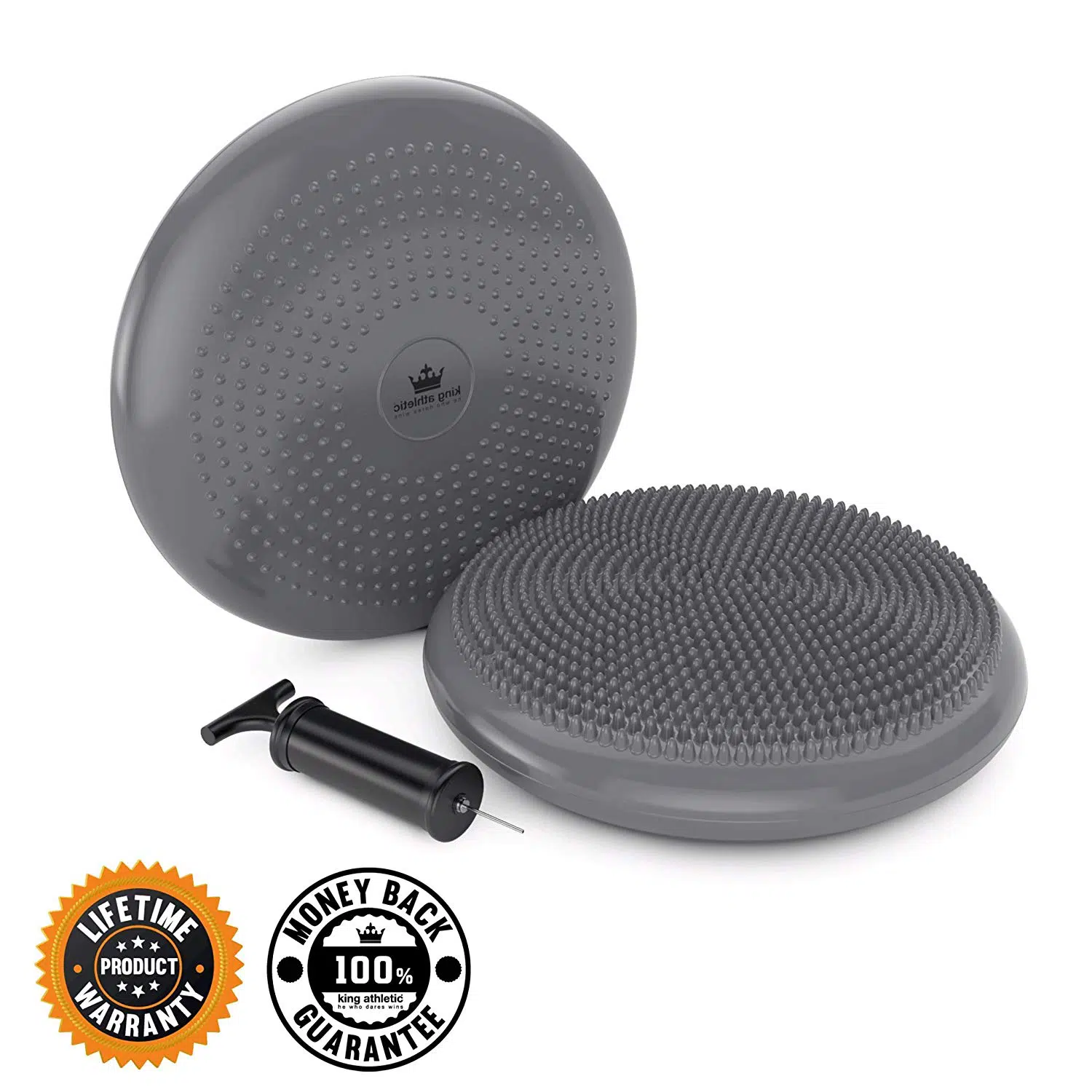 For the best inflatable chair cushion look no further than the King Athletic Stability Disc. This cushion helps hyperactive children or people prone to fidgeting in their seat to sit still and be more focused for longer. It is best used with inflatable chairs or chairs that wobble around when you sit in them. It increases your core strength while absorbing all the extra fidget energy that some are prone to.
This pillow isn't the most comfortable thing to sit on but it hasn't been designed for comfort. It helps with stability issues, helps those who sit at a desk all day and want to be fitter in the abdominal regions and it is an aid to hyperactive children. It comes in gray and has a pump included for easy inflation. The disc is 13 inches in diameter and features grip on one side to cling to the fabric of most seats. The pillow also comes with a free E-Book that contains some exercises you can do while seated to maximize the benefit of the cushion. All in all it makes quite a good deal.
The Best Inflatable Pool Float: The Kelsyus SwimWays 80014 Floating Lounger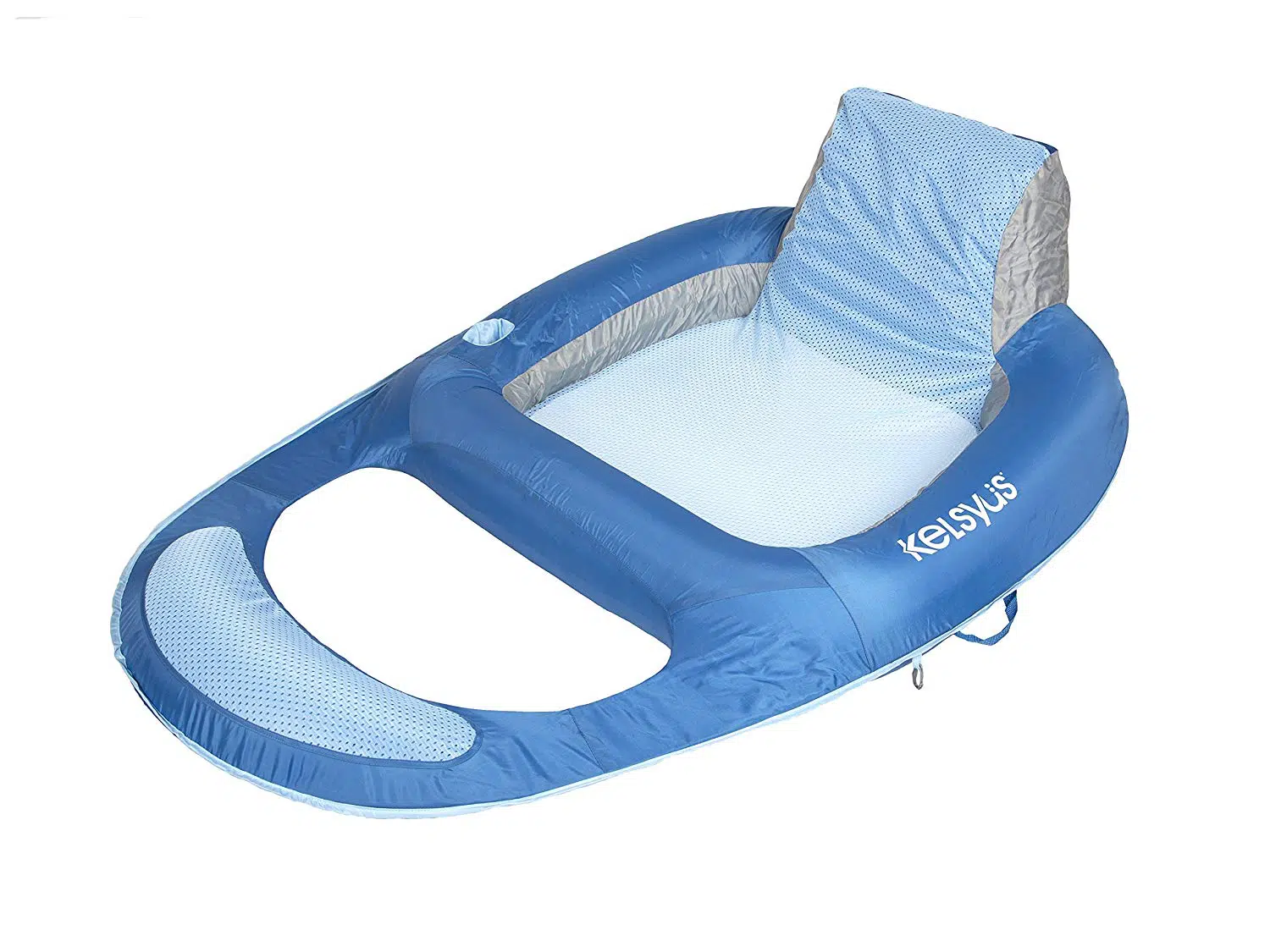 The Kelsyus Chaise Lounger is a floating inflatable chair with a mesh bottom that suspends your body just below the water as you lie. If we had any complaints about this model it was that it doesn't raise you fully out of the water. It has a patented inner spring technology built in that stops it from loosing shape and has a headrest, a footrest and a lower back rest all incorporated in the design.
With dimensions of 56 x 38 x 16 inches this is a fairly substantial size of pool float that can accommodate either adults or children. It's mesh design can hold up to 250lbs of weight. The fabric used in the inflatable parts is tough and durable while obviously being waterproof and suitable for outdoor use. Furthermore it folds away for easy storage into a surprisingly neat package but it is only available in blue. Perfect if you want a matching set, not so perfect if you aren't a fan of blue. This color does tie into the water though and doesn't look unsightly in a pool.
The Best Inflatable Bean-less Bag Chair: The Intex Deluxe Inflatable Beanbag Chair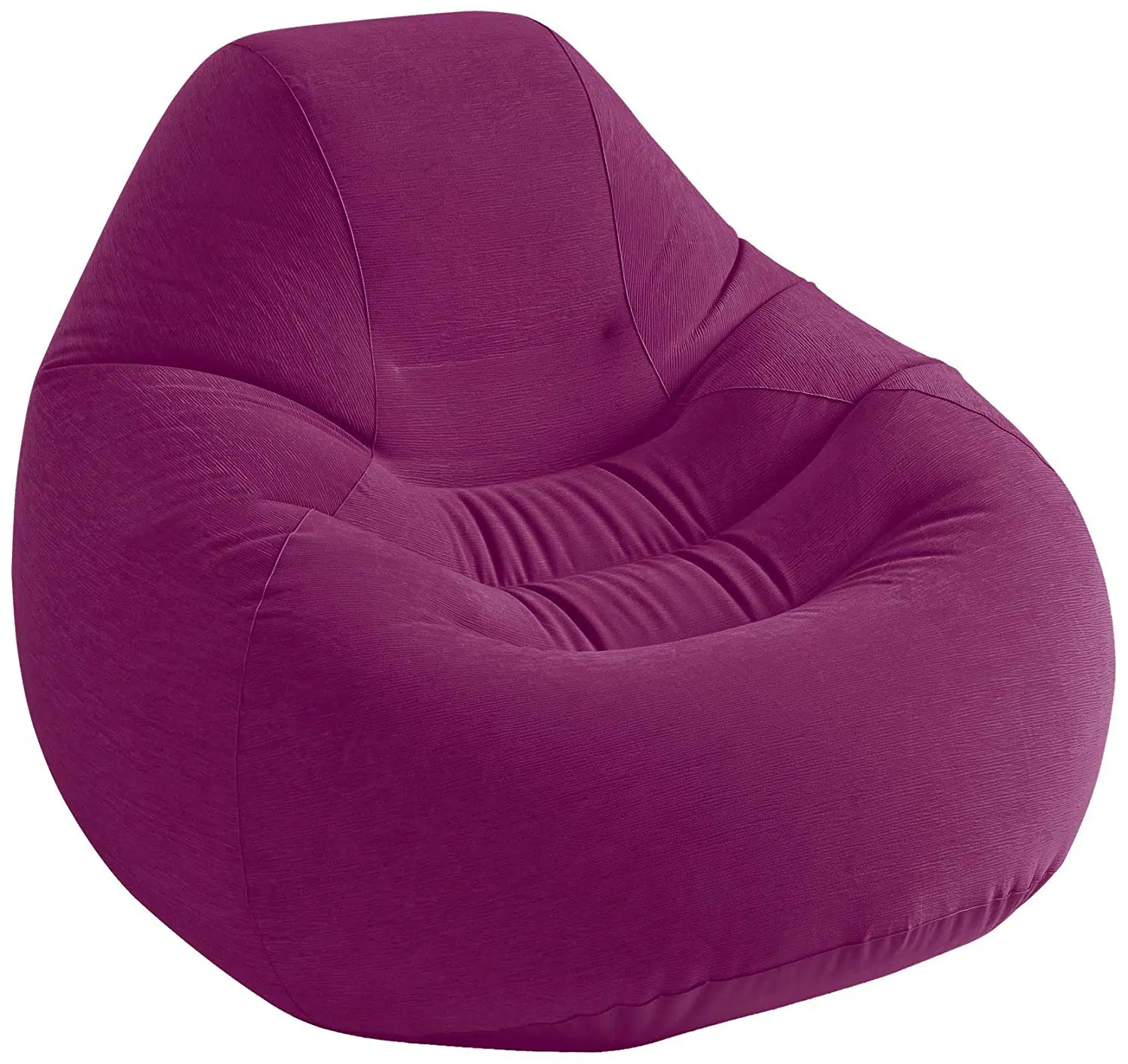 This is another plush offering from Intex that comes in an attractive plum color – albeit that is the limitation of your choices. The flocked texture of the durable and waterproof design adds extra comfort while simultaneously making it suitable for both indoor and outdoor use. Unfortunately it also means that this model doesn't wipe clean easily. The finish is similar to that of corduroy and gives a nice touch of luxury. This model also comes with a built-in head rest to make sure it is as relaxing an experience as can be.
The seat part of this chair has a textured and padded top for your comfort. Add to that a fully reinforced bottom for more toughness and longevity. This is an ideal model for gamers, college dorms and for having as bedroom seating. It has dimensions of 58 x 50 x 32 inches so it is big enough for your average adult and makes a cozy seat for a child, without the safety hazards associated with bean bag chairs.
Best Inflatable Chair With Ottoman: The Intex Ultra Lounge Ottoman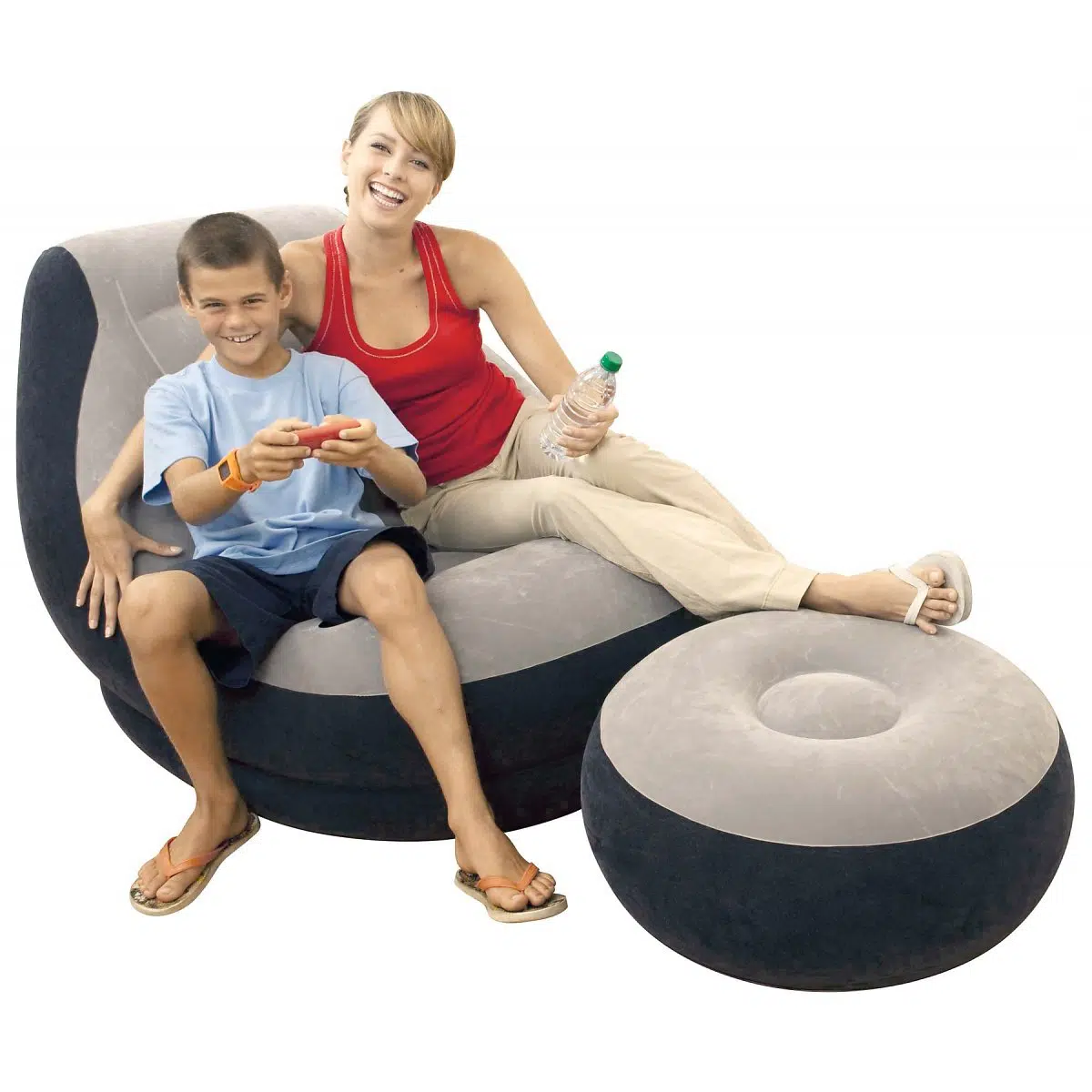 The Intex Ultra Lounge Ottoman is similar in feel to their other Ultra Lounge model but is slightly larger and contains space for two. This set is designed to be kept inside the house whereas the previous version mentioned above is best for camping and travel use – although this model is perfectly portable too it is a little bulkier and heavier, so if you want a chair with an ottoman to take on the road with you see the other Ultra Lounge above.
This version comes with the same highly durable flocked polyester that makes for a tough inflatable chair with a comfortable seating surface. It also has a head and back rest and comes with a cup holder. It is definitely a more sleek and sophisticated model than some of the other portable inflatable chairs and would look good in most bedrooms, lounges or even living rooms. This chair can take a weight of up to 220 lbs, comes with the ottoman and is made of high grade fabrics.
Best Inflatable Chair for Camping: The JSVER Inflatable Travel Lounger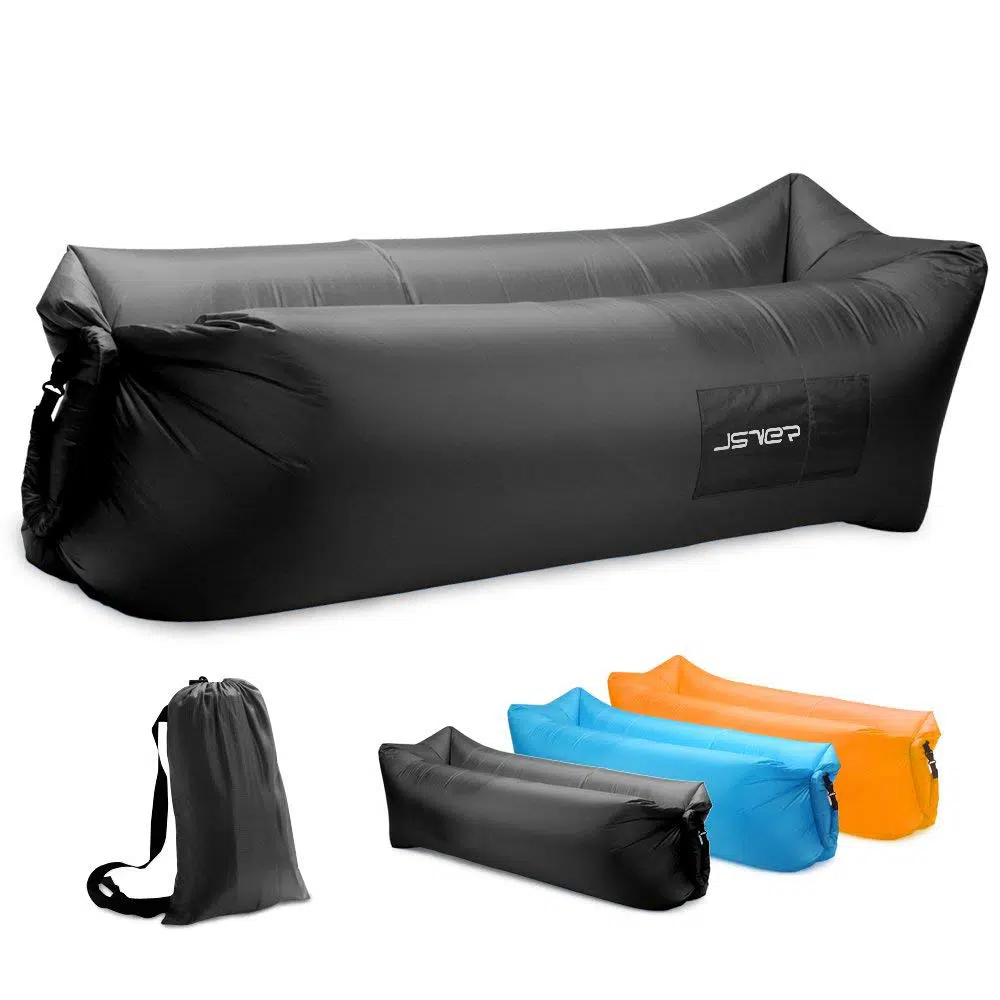 The JSVER travel lounger operates using scoop technology so you only have to open the fabric and scoop air into it to inflate it. Moreover it features some awesome anti-deflation technology that sees it stay inflated for a whopping 24 hours – one of the best in our whole guide. It also features high density, waterproof 210T reinforce nylon throughout – not just on the bottom.
The JSVER is very affordable for the quality that you get. Also it features an inbuilt headrest that has been developed for comfort and support. It comes in three colors with a handy storage bag and rolls up neatly once it has been deflated. Once you have inflated this model you buckle the straps to hold the air inside, and releasing these straps ensures swift deflation.
It can function as either a sofa, a bed or a seat and has dimensions of 75 x 21 x 33 inches, making it one of the longer loungers on our list. It also comes with an anchor so that it doesn't get blown away. Unfortunately this model is tough to inflate if it isn't windy owing to the high density of the fabric.
The Best Inflatable Sofa: The Intex Inflatable Corner Sofa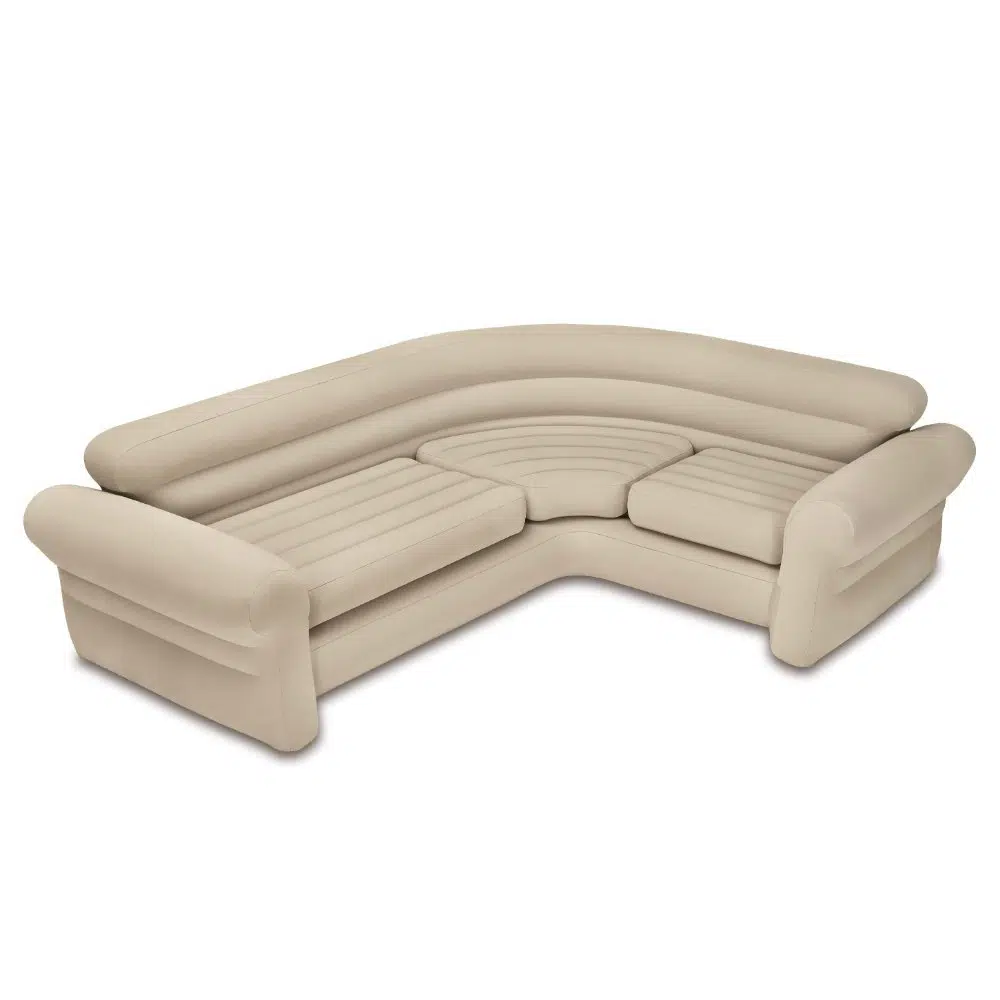 Once again Intex have created a product with a difference by introducing the corner sofa design. This is a big model – maybe too big for some – but for a college dorm it is a great choice. The corner sofa has an amazing weight bearing capacity of 880 lbs and has dimensions of 101 x 80 x 30 inches. It does take a lot of space up but since it is a sofa we don't expect it to be small! Furthermore is available in only one color, although the color is neutral and it ought to blend into most rooms.
It takes a long time to inflate but has a 2-in-1 widened valve to make the process easier. Beyond that, it has a waterproof flocked top that makes for comfortable sitting and also means that it can be used outdoors. The toughened vinyl bottom ensures protection from punctures. Likewise it can be folded away into a compact shape for ease of storage. This is great outdoor furniture that is highly fashionable and that might look great in any lounge, too!
Things to keep in mind before you buy!
Does it come with a pump?
Pumping up an inflatable chair can be a slow process, but some models come with a pump so think about this before you buy. Some models also inflate using the 'scooping' technique which involves swishing the product through the air and fastening it shut before that air escapes.
Cost / Price Range
There are a few different price ranges for inflatable chairs but fortunately most of them are made from high grade polyester and nylon that lasts a long time. The cheaper models that are still reliable start from around $17.99 and go up to about $30.00. Anything less than this and we would advise caution over the quality of the product. That being said you can buy some fairly well made children's bags for less of a cost than an adult's bag.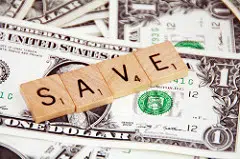 Obviously if you want a lounge or sofa then the price will go up. Prices in this range are usually around the hundred dollar mark, although you could spend more if you wanted to add features like ottoman's or sets of chairs. Generally speaking the inflatable chairs that are high end will be worth the money and be built to last, just be careful you don't pay high end prices for a middle range model.
How much to spend?
In the middle range you will pay around fifty dollars for an inflatable chair that looks good, is well made and is highly durable. These chairs tend to make comfort a high priority while the lower end models choose to focus on functionality instead. This makes for a noticeable difference in styles between cheaper bags and mid-range bags. Children's inflatable chairs of the very highest quality fall into this category. Here it is assumed that nobody would spend a great deal of money on a chair that a child will eventually grow out of. If your child is still growing consider an adult chair anyway as it ought to save you having to buy a new one in future.
Some products come with trails, warranty's or even guarantees. These are often more pricey but are very much worth considering.
Material
Generally speaking; the tougher the material the better quality the product. Bear in mind that a tougher material will be heavier. Therefore this may hinder you if you intend to carry your chair around camping or tailgating with you. Typically high quality fabrics are flocked, and nylon, polyester and other tough but waterproof materials are used. Flocked fabrics and padded fabrics add extra comfort so it is always something you should consider before you buy. The best indoor chairs will always have extra touches like head rests added for your comfort. Some of the best outdoor ones often have the built-in cup holder feature.
The frame of the chair also affects the material's durability. Look for a solid frame for those you want to keep at home, but always opt for a reinforced bottom where possible – particularly when seeking an outdoor chair. Especially when looking at pool floats consider the structure that will best support you. Likewise keep an eye on the load bearing capacity of any model you are buying to ensure it will hold you. You may also want to consider how compact some of the camping models are when folded away. Carry bags are also important if it is a portable model.
Adjustability
Adjustability isn't an ordinary feature of inflatable chairs so when you do come across one that adjusts you may end up paying more for it – but it will still be worth it! There are certain models that turn from chairs into beds and others that can operate as either a couch, bed or lounger; but these models do not come as standard so always check before you buy if adjustability is a desired feature.
Portability
Portability is important for on-the-road models. Make sure your chosen portable inflatable chair is as lightweight as possible. Especially If you are going to need to carry it on hikes with you. Also, some models have an anchor or a stake to hold them in place on windy days so if you are looking for an inflatable chair for camping then do consider this aspect as a must.
Stability
Stability of any model of inflatable chair can be improved by adding the inflatable pillow that we featured earlier in our guide. The flimsier the material that the chair is made from the more likely it is to be unstable – another reason not to buy cheap makes. Stability also depends a little on the inflation and deflation rates of your chosen model. The more easily a chair deflates the more irritated it will make you in the long run.
Size and Weight
As you can see from some of our product descriptions, the larger inflatable chairs can be up to 101 inches long and can stand nearly 60 inches high. Obviously the children's models are smaller and outdoor models tend to be lower to the ground to prevent them blowing away. A good portable model should also fold away into a compact unit that you can easily store, so think about how big the model will be when stored before you commit to purchase.
Color
You really can buy inflatable chairs in every color imaginable if you just look hard enough. Typically pool loungers come in pool colors like blue, white and yellow, whereas inflatable chairs for the beach tend to be bright and vibrant. You can buy patterned ones or neutral ones should you want an indoor inflatable chair to match your décor. Children's ones can also be themed to match styling.
Frequency of Use
Bear in mind that even the most waterproof of models should not be left in the rain for prolonged periods of time. Bad weather will effect durability as much as frequent use will. If you intend it to be an every day item then buy as tough and durable a fabric as you can. Also make sure it is spill resistant and has a reinforced bottom. The tougher the fabric the more life you will get from the product.
Storage
How easily a portable model can be stored or folded is an important aspect, but it is also important for chairs that you intend to keep at home. Nobody wants a bulky item that takes up valuable storage space, so try to opt for as light and compact a model as you can if you think you are going to need to store it in the future.
Inflatable furniture for adults vs. kids
When it comes to the differences between adults and kids variations on the inflatable chair there is not much of a difference. Kids chairs tend to be cast in vibrant and lively colors. They can be a little smaller across the seating area. Make sure to see if they have been thoroughly safety tested to ensure no accidents.
Adults chairs need to be bigger, more robust. This makes it less likely to deflate as adults have a tendency to be annoyed when the chair starts to go down. Kids don't even tend to notice. That being said even the cheapest kids model ought to have some kind of protection against deflation. Both indoor versions will require blowing up whereas outdoor versions are more likely to be scoop operated.
Frequently Asked Questions
Is it difficult to sunbathe in an inflatable chair?
It can be. Due to their nature you tend to sink in and won't get even sun coverage over all of your body. This is not so with a pool float, which is much more likely to expose your whole body to the rays. Inflatable chairs with ottomans are often better for sunbathing on as they allow you to raise your legs without being swallowed by the fabric.
How will I know it's comfortable if I am buying online?
The best advice we can give you here is to weigh the fabric choice of the design against what will feel good next to your skin. Nylon is durable but unless it is flocked it can be uncomfortable to lie on. Scroll through the consumer reviews before you purchase any inflatable chair to make sure you are buying a decent product.
How much time will I need to inflate/assemble my inflatable chair?
Most chairs that use the scooping technique can be unrolled from their carry bag and blown up in a matter of half a minute. Others with the traditional pumping system can take a little longer. No model should take longer than ten minutes to pump up to full capacity but always ensure you do buy a hand or foot pump if it is a traditional model.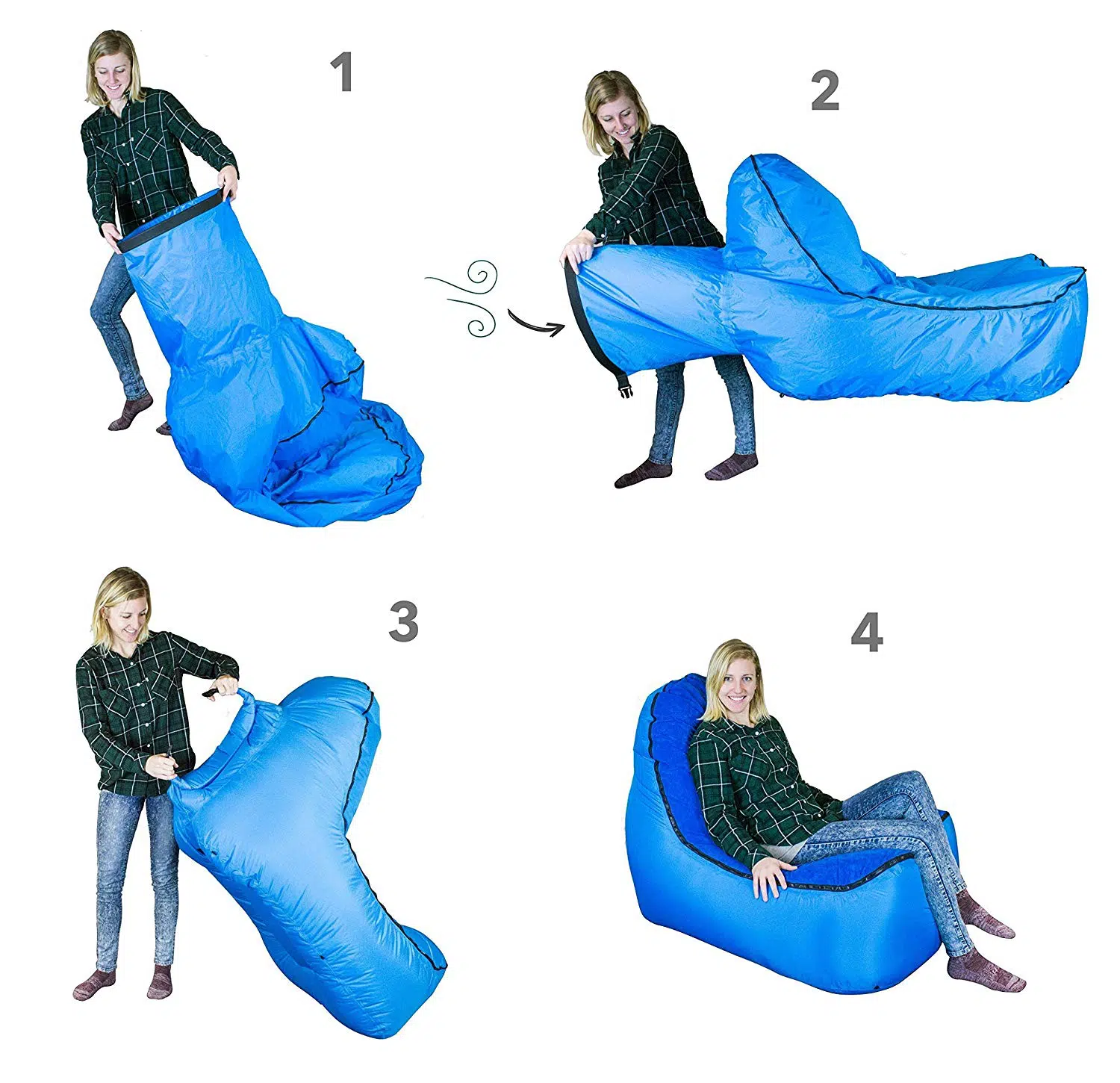 Outdoor or Indoor?
It depends entirely on what you plan to use it for! To be certain though, the outdoor models tend to be tougher and brighter colors whereas the indoor ones tend to be more neutral and feature plush surfaces. Many outdoor ones come with anchors or stakes so that you can pin it down and it won't blow away on a windy day. All inflatable chairs should be at least a little waterproof, too.
Where to buy your inflatable chair?
Of course you get the most variety of choices when you shop online for inflatable chairs. Amazon is the market leader, with hundreds of products to choose from and guarantee's and warranty's enough to keep any consumer happy. You also have the benefit of easy access to customer reviews when you buy on Amazon.
Next best is Ebay who have a reasonably sized collection of inflatable chairs to buy online. There is a little less choice than you might find on Amazon but the prices are competitive and you have the added benefit of home delivery when you choose Ebay as your supplier.
Thirdly we have Costco, the suppliers of everything up to and including the kitchen sink. Prices are usually good from Costco but your choice is much more limited than it would be were you to go online – although it does mean you can both choose your inflatable chair and take it home with you on the same day. The choice is (quite literally) yours.
To conclude…
When buying the perfect inflatable chair for you there are lots of factors to take into consideration. As well as style, material, fabric and quality; you also have to choose a color, theme or pattern and decide where to buy it from. Your options will be broadened by the addition of armrests and headrests, cup holders and pockets – but if you bear in mind why you want the product to begin with you will be able to safely navigate the world of inflatable chairs without too much strife!
We sincerely hope that this guide has helped you to make a decision over which inflatable chair is right for you. Remember to think about outdoor and indoor uses, longevity and warranty's when you make your choice. Additionally, don't forget that there are a whole world of other types of chair out there like the Zero Gravity Chair or the Bean Bag Chair to further your choices – as if you didn't have enough already!
So please do share this guide with anyone you think needs guidance before making a purchase so that we can help them, too. We want everyone to be united with their perfect chair and are on a mission to make it happen…one plush, comfortable and luxurious seat at a time!